TeachEngineering History
In January 2003, a team of university researchers received National Science Foundation funding to create the web-based TeachEngineering.org digital library collection—populated with searchable, standards-based K-12 curricula for use by science teachers and engineering faculty to teach engineering in K-12 settings.
The idea was to build upon the extensive K-12 engineering curriculum already developed by four universities with National Science Foundation's GK-12 program funding, and merge the curricula from these individual sites into a unified and useful collection of free and accessible resources.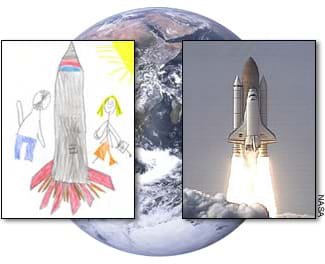 Engineering faculty, graduate and undergraduate students, and K-12 teachers were key participants in this endeavor. Each institution had local school district partners engaged to promote engineering as a vehicle for math and science integration as they developed and classroom tested the curricular materials. The resulting lessons and activities relate to everyday encounters in the lives of youngsters, thus providing an engineering context for student learning.
Faculty and students in the College of Business at Oregon State University designed and developed the system architecture and search engine. The architecture, document collection and metadata formulation are based on established NSDL digital library protocols.
Concurrently, the partners standardized the initial curricular contents, converting a variety of K-12 engineering curricula into searchable, standards-based documents with a common look and feel. Activities take an "engineering on a shoestring" approach, using low-cost, readily available materials. Collections curricula meet explicit quality criteria and are aligned with state and/or national science, mathematics and technology educational standards. The team populated the collection with classroom-tested contents over several years. The units, lessons and activities introduce engineering to K-12 students, serving as integrators of science and mathematics concepts. The collection also provides a portal to several "living labs"—providing curricula for classroom use of online real-world data on renewable energy, earthquakes and transportation.
National Science Foundation funding received in November 2005 provided the means to expand TeachEngineering capabilities to become the K-12 component of NSDL's Engineering Pathway. As part of this work, in October 2008, the team released a breakthrough version in which all curricular items were aligned to the current K-12 math and science educational standards of all 50 states and many national standards. This unprecedented multi-state alignment required the availability of all K-12 science and math standards in electronic form and more than a year of
nightly "mining" of CNLP's CAT (Curriculum Alignment Tool) and SAT (Standard Alignment Tool), and JES & Co.'s ASN (Achievement Standards Network) data, resulting in 24 million alignments. Our thanks go to our NSDL collaborators: Achievement Standards Network (JES & Co.) and the Center for Natural Language Processing (Syracuse University). With this new version, TeachEngineering became able to support authors who contribute new curricular content that meets educational standards from any state, as well as teachers from all states searching for curriculum that aligns to their state's standards. In 2010, every TeachEngineering lesson and activity was aligned to the International Technology and Engineering Educators Association (ITEEA) standards to strengthen the engineering foundation of the collection and somewhat compensate for the fact that most states lack K-12 engineering standards.
The collection continues to expand with new additions submitted from more than 50 different institutional contributors so far. Submissions are reviewed to high-quality standards by more than 80 generous volunteer teachers and engineers. Just over half of submittals make it through peer review, and those that do are iterated with the authors for clarification and quality control. To support its publishing workflow, the project maintains an open source journal publishing portal to serve authors and reviewers. Strict standardization assures that every item in the collection, regardless of its origin, presents a standard "look and feel," and is cross aligned to all known STEM standards. An effort is made to continually cultivate improved public understanding of engineering through the pervasive use of the National Academy of Engineering's tested messaging approaches, as evidenced by the taglines and graphics incorporated throughout the TeachEngineering website.
Most curricular author contributors are the professors, teachers and graduate students associated with NSF-funded engineering colleges from across the country, primarily NSF GK-12 and RET research grantees. By 2013, more than one-third of the collection (and growing) was contributed by grantees beyond the core team. By choosing to use the TeachEngineering digital library as their curricular dissemination venue, these programs contribute to TeachEngineering becoming a key resource for the STEM movement and broad K-12 engineering community, now serving more than 100,000 unique users every month with nearly perfect uptime.
As of late 2013, original partners University of Colorado Boulder, Oregon State University and Duke University continue to apply rigorous standards to the publishing process and enhance many user features of the system, while performing systems and backbone infrastructure work to accommodate the growing digital library content and dynamically align all curricula in the collection to changing K-12 STEM educational standards. This keeps 1,200+ hands-on engineering lessons and activities specifically designed and classroom tested for K-12 youth freely available to teachers nationwide. In progress, the core team is hand-aligning the collection's lessons and activities to the Next Generation Science Standards—a time-intensive endeavor. And soon, a new type of curricular document will be added into the collection, namely, quick, easy-to-conduct, "sprinkles"—-60-minute-or-less, hands-on engineering activities that are abbreviated versions of the most popular TeachEngineering activities and designed for informal learning settings such as afterschool clubs.