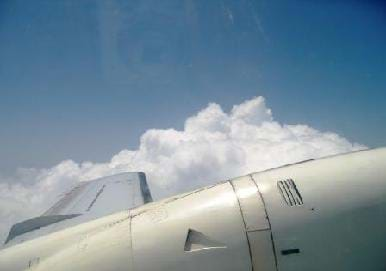 Summary
Students consider how weather forecasting plays an important part in their daily lives. They learn about the history of weather forecasting — from old weather proverbs to modern forecasting equipment — and how improvements in weather technology have saved lives by providing advance warning of natural hazards.
Engineering Connection
People have forecasted the weather since ancient times; however, thanks to the work of engineers during the past 100 years, we now have advanced weather forecasting equipment such as weather balloons, satellites, Doppler radar and computer simulation programs. Today, people around the world rely on the information provided by these weather forecasting technologies, in the form of weather forecasts broadcast multiple times daily, to help us choose clothes to wear, plant crops at optimal times, and survive natural disasters, such as hurricanes, floods and tornadoes.
Educational Standards
Each TeachEngineering lesson or activity is correlated to one or more K-12 science, technology, engineering or math (STEM) educational standards.
All 100,000+ K-12 STEM standards covered in TeachEngineering are collected, maintained and packaged by the Achievement Standard Network (ASN), a project of JES & Co. (www.jesandco.org).
In the ASN, standards are hierarchically structured: first by source; e.g., by state; within source by type; e.g., science or mathematics; within type by subtype, then by grade, etc.
Click on the standard groupings to explore this hierarchy as it applies to this document.
Learning Objectives
After this lesson, students should be able to:
Describe how weather forecasting has evolved from the observation of patterns to modern forecasting equipment.
Explain how engineering advancements in weather forecasting improve the quality of people's lives around the world.
List several examples of technology behind modern forecasting equipment (weather balloons, satellites and weather radars).
Introduction/Motivation
What were you thinking about when you dressed for school this morning? Specifically, how did you decide what to wear today? Did you glance out the window to see what the weather was doing? If you looked out the window, what were your clues? (Possible answers: Clouds, sunshine, wind blowing through the trees, birds in the sky, etc.) So, without even thinking about it this morning, you were forecasting the weather! In the same way, people around the world have been forecasting the weather for thousands of years. For a long time, people relied on weather patterns to predict the weather. Who has heard the following expression?
"Red skies in the morning, sailors take warning? Red skies at night, sailors' delight."
Well, although this rhyme is not entirely true, ancient sailors used it as a rule of thumb, due to the fact that a red morning sun did indeed often bring rain (because the red sky occurred when the air was full of dust and water vapor).
Besides sailors navigating on the open water and you wanting to dress right for the weather, why do we care about weather forecasting? (Note: Show students the weather section of the day's newspaper.) Why is there a weather section in the newspaper? When you do see people consulting the weather forecast, either in the newspaper or on television? (Possible answers: Before planning a trip, a sporting event, going on a picnic, doing outside chores, etc.) What about people who grow food? Do any of you have a garden at your house? It is certainly helpful to understand the weather when taking care of a garden.
For farmers, whose crops are their livelihood, the ability to predict the weather is crucial. Before the advent of modern weather forecasting technology, which we will discuss later, how do you think farmers predicted the weather? (Note: If possible, show the students a copy of the Farmer's Almanac.) Some of you may have heard of The Farmer's Almanac, a book — used since 1792 — that uses a complex series of natural cycles to devise a secret weather forecasting formula, traditionally said to be 80% accurate. Before modern weather technology, farmers relied heavily on the Almanac to plan their crop growing seasons. People around the country still read the Almanac to learn about farming, the weather and to understand astronomical events and ocean tides (see Additional Multimedia Support section for a website link to a Farmer's Almanac video).
How do you think people forecast the weather today? (Possible answers: Satellites, weather balloons, computers.) During the past 100 years, engineers and scientists have worked to design modern forecasting equipment such as weather balloons, satellites, Doppler radars and more to help predict the weather. Fortunately, modern equipment has made it much easier to predict weather, climate and water-related hazards around the world, which account for nearly 90% of all natural disasters. Modern weather forecasting technology provides vital information for advance warnings of natural disasters such as tornadoes, hurricanes and floods. Improved technology has saved many lives and reduced damage to property and the environment.
Lesson Background and Concepts for Teachers
History of Weather Forecasting
Modern Forecasting Equipment
Weather Balloons
Satellite Technology
Weather Radars
The Doppler Radar
Who Uses the Information?
Vocabulary/Definitions
| | |
| --- | --- |
| | The change in frequency of a wave (that is, a sound wave) perceived by an observer moving relative to the source of waves. |
| | A person who uses scientific principles to explain, understand, observe or forecast the Earth's atmospheric phenomena and/or how the atmosphere effects the Earth and life on the planet. |
| | An electronic instrument used to determine the direction and distance of objects that reflect radio energy back to the radar site. |
| | Any object that has been put into orbit by human endeavor. |
| | The process by which radiation energy is reflected by small particles. |
| | A durable helium — or hydrogen — filled balloon that carries instruments to obtain information about atmospheric conditions. |
| | A type of satellite used to monitor the weather and climate of the Earth. |
Associated Activities
Backyard Weather Station - Students use their senses to describe what the weather is doing and predict what it might do next.
Lesson Closure
Now that we have learned how weather forecasting has come a long way from the basic observation of weather patterns, we can appreciate the work of engineers who have worked so hard to develop modern forecasting equipment. Advanced technology such as weather balloons, satellites and Doppler radars have improved the quality of people's lives around the world by helping us plan our days, plant our crops, and prepare for natural hazards, such as hurricanes, tornadoes and floods.
Assessment
Pre-Lesson Assessment
Weather Proverbs: Read the following list of weather proverbs to students. In small groups or as a class, try to guess what each weather proverb means and what it might tell us about the weather.
If crows fly low, winds are going to blow; if crows fly high, winds are going to die.
No weather is ill if the wind is still.
News and weather... they travel together.
A sunshiny shower won't last half an hour.
Clear moon, frost soon.
From twelve 'til two tells what the day will do.
It rains as long as it takes rain to come.
When sea birds fly to land there truly is a storm at hand.
Post-Introduction Assessment
Worksheet: Before the introduction, give each student a copy of the attached Cool Weather Forecasting Facts Worksheet. Have students take notes while listening to the introduction and lesson (using the information from the Lesson Background section). At the end of the lesson, have students share their cool weather forecasting facts with the class. This worksheet can also be used as a lesson organizer.
Lesson Summary Assessment
Explaining Weather Proverbs: Return to the list of weather proverbs listed in the Pre-Lesson Assessment. Now have students explain how they could test these proverbs. What forecasting equipment might students use to determine if the proverbs are true?
Lesson Extension Activities
Understanding the Doppler Effect: Conduct the following demonstration to show students how the Doppler effect works and how Doppler radar helps meteorologists predict the weather.
You will need:
battery-powered razor or horn (something with a steady tone)
cassette recorder with a microphone
Procedure:
Record the sound of the razor or horn.
Play the recording to make sure it sounds exactly like the original sound.
Record the razor or horn again. This time, move the razor or horn towards and past the microphone several times.
Play the recording back and listen to the pitch of the razor or horn go up as it gets closer to the microphone and go down as it moves further away.
Explanation: The change in the frequency of sound is called the Doppler effect. Doppler radar measures the changes in the frequency of the signal it receives to detect the intensity of precipitation, estimate wind direction and speed, and predict hail size and rainfall amounts.
Additional Multimedia Support
Hands-on weather experiments for kids, http://www.srh.noaa.gov/bmx/?n=kidscorner_weatherexperiments
Farmer's almanac website with activities, videos and long-range weather forecasts, http://www.farmersalmanac.com.
References
Annenberg Media, Learner.org, Interactives: Weather, "Forecasting," accessed December 12, 2007. http://www.learner.org/exhibits/weather/forecasting.html
Farmer's Almanac, accessed December 14, 2007. http://www.farmersalmanac.com
NASA Ames Research Center, Flight Desk Display Research Laboratory, Implementations, "3D Cockpit Situation Display (CSD)," accessed December 12, 2007. http://human-factors.arc.nasa.gov/groups/FDDRL/technologies/3dcdti.php
National Weather Service Forecast Office, El Paso Office, Kid's Weather, "Experiments," accessed December 14, 2007. http://www.srh.noaa.gov/bmx/?n=kidscorner_weatherexperiments
National Aeronautics and Space Administration, SP-4312 Dreams, Hopes, Realities, "Chapter 5: Exploring the Earth," accessed December 14, 2007. http://history.nasa.gov/SP-4312/ch5.htm
National Oceanic and Atmospheric Administration, accessed December 14, 2007. http://www.crh.noaa.gov/fsd/science/doppler/images/scat.gif
National Oceanic and Atmospheric Administration, accessed August 13, 2014. Radiosonde Observations. http://www.ua.nws.noaa.gov/factsheet.htm
Tarp, Keli. National Oceanic and Atmospheric Administration, "NOAA Provides Expertise For Development Of New Radar Network," accessed December 14, 2007. http://www.noaanews.noaa.gov/stories/s2097.htm
Contributors
Lauren Cooper, Malinda Schaefer Zarske, Janet Yowell
Copyright
© 2007 by Regents of the University of Colorado.

Supporting Program
Integrated Teaching and Learning Program, College of Engineering, University of Colorado Boulder
Acknowledgements
The contents of this digital library curriculum were developed under a grant from the Fund for the Improvement of Postsecondary Education (FIPSE), U.S. Department of Education and National Science Foundation GK-12 grant no. 0338326. However, these contents do not necessarily represent the policies of the Department of Education or National Science Foundation, and you should not assume endorsement by the federal government.
Last modified: February 10, 2016