Just a cute kid with a great imagination...
or an aspiring engineer with dreams and drive to shape our world?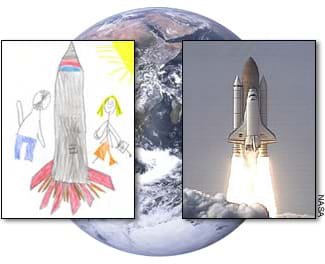 What is engineering, how is it being taught in K-12 schools, and how can it support math and science learning, creativity, and innovative thinking? These and other issues are discussed in a new report from the National Academies, the first-ever look at this emerging area of K-12 STEM education.
WHY K-12 ENGINEERING?
The TeachEngineering Digital Library exists to provide teachers with the curricular materials to bring engineering into the K-12 classroom for a single day, a unit, or even an entire course - but why would a teacher introduce students to engineering in the first place? Below are some answers to that question from TeachEngineering and the K-12 engineering education community. The answers fall into two categories: 1) to improve your students' learning, and 2) to guide your students to great careers:
Improve Student Learning
Introduce Exciting Career Paths
Becoming a technological thinker and leader is essential for full participation in our high-tech, global world. Exploration of engineering with K-12 learners inspires youngsters to become aware of the human-made world around them. Developing engineering habits of mind helps all people (including youth) imagine themselves as shaping the future - developing skills to address real-world challenges and creating things for the benefit of humanity and our planet. Because engineering is a natural platform for integration of multiple subjects, and evidence suggests that design as a pedagogical strategy promotes learning across disciplines, K-12 engineering curricula introduces young students to relevant and fulfilling science, technology, engineering and mathematics (STEM) futures.
Why teach K-12 engineering in your classroom?
TeachEngineering... because dreams need doing.