Students are introduced to Newton's third law of motion: For every action, there is an equal and opposite reaction. They practice identifying action-reaction force pairs for a variety of real-world examples, and draw and explain simplified free-body diagram vectors (arrows) of force, velocity and acceleration for them. They also learn that engineers apply Newton's third law and an understanding of reaction forces when designing a wide range of creations, from rockets and aircraft to door knobs, rifles and medicine delivery systems. This lesson is the third in a series of three lessons intended to be taught prior to a culminating associated activity to complete the unit.

Students gain a better understanding of the different types of materials as pure substances and mixtures and learn to distinguish between homogeneous and heterogeneous mixtures by discussing an assortment of example materials they use and encounter in their daily lives.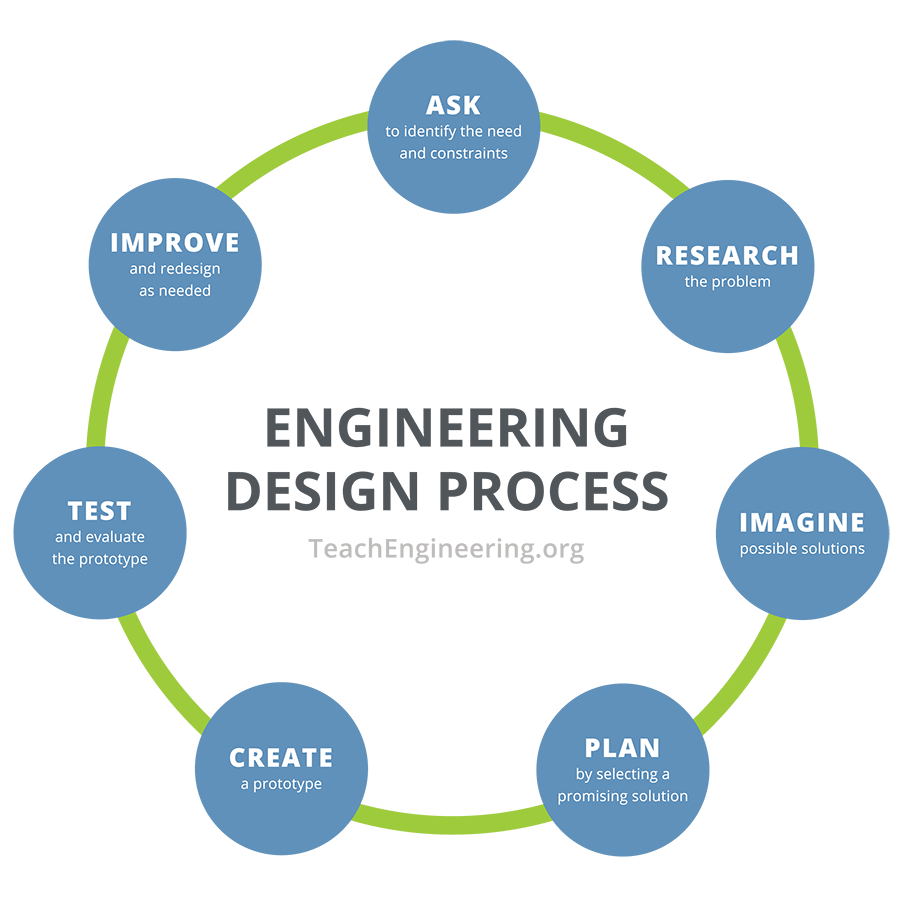 Students practice the initial steps involved in an engineering design challenge. They begin by reviewing the steps of the engineering design loop and discussing the client need for the project. Next, they identify a relevant context, define the problem within their design teams, and examine the project's requirements and constraints. (Note: Conduct this activity in the context of a design project that students are working on, which could be a challenge determined by the teacher, brainstormed with the class, or the example project challenge provided [to design a prosthetic arm that can perform a mechanical function].)

Students explore the interface between architecture and engineering. In the associated hands-on activity, students act as both architects and engineers by designing and building a small parking garage.

Students continue to explore the story of building a pyramid, learning about the simple machine called a pulley. They learn how a pulley can be used to change the direction of applied forces and move/lift extremely heavy objects, and the powerful mechanical advantages of using a multiple-pulley system. Students perform a simple demonstration to see the mechanical advantage of using a pulley, and they identify modern day engineering applications of pulleys. In a hands-on activity, they see how a pulley can change the direction of a force, the difference between fixed and movable pulleys, and the mechanical advantage gained with multiple / combined pulleys. They also learn the many ways engineers use pulleys for everyday purposes.

Students explore the physics exploited by engineers in designing today's roller coasters, including potential and kinetic energy, friction and gravity. First, they learn that all true roller coasters are completely driven by the force of gravity and that the conversion between potential and kinetic energy is essential to all roller coasters. Second, they consider the role of friction in slowing down cars in roller coasters. Finally, they examine the acceleration of roller coaster cars as they travel around the track. During the associated activity, students design, build and analyze model roller coasters they make using foam tubing and marbles (as the cars).

Students learn the different airplane parts, including wing, flap, aileron, fuselage, cockpit, propeller, spinner, engine, tail, rudder, elevator. Then they each build one of four different (provided) paper airplane (really, glider) designs with instructions, which they test in three trials, measuring flight distance and time. Then they design and build (fold, cut) a second paper airplane design of their own creation, which they also test for flight distance and time. They graph the collected class data. Analysis of these experiments with "model" airplanes and their results help them see and figure out what makes airplanes fly and what can be changed to influence the flying characteristics and performance of airplanes.

Simple machines are devices with few or no moving parts that make work easier. Students are introduced to the six types of simple machines — the wedge, wheel and axle, lever, inclined plane, screw, and pulley — in the context of the construction of a pyramid, gaining high-level insights into tools that have been used since ancient times and are still in use today. In two hands-on activities, students begin their own pyramid design by performing materials calculations, and evaluating and selecting a construction site. The six simple machines are examined in more depth in subsequent lessons in this unit.

Students are introduced to two real-life problems that can be solved by using the engineering design process. For the first one, they follow along with a slide presentation that describes how a group of students built an organizer to help organize their teacher's desk. The presentation introduces students to the key steps in the engineering design process. Next, in discussion groups, they read through a scenario in which middle school student Marisol struggles to keep their locker organized. They read the case study together, stopping and discussing at key points to share ideas and consider Marisol's progress as they moves through the engineering design cycle to design and implement a solution. As an optional hands-on activity extension, students construct their own locker organizer using scrap materials. This introduction to the engineering design process sets up students to be able to conduct their own real-world design projects. A case study handout, group leader discussion sheet and slide presentation are provided.

Students explore how pendulums work and why they are useful in everyday applications. In a hands-on activity, they experiment with string length, pendulum weight and angle of release. In an associated literacy activity, students explore the mechanical concept of rhythm, based on the principle of oscillation, in a broader biological and cultural context — in dance and sports, poetry and other literary forms, and communication in general.

Students are introduced to the distinctive properties of mixtures and solutions. A class demonstration led by the teachers gives students the opportunity to compare and contrast the physical characteristics of a few simple mixtures and solutions. They discuss the separation of mixtures and solutions back into their original components as well as different engineering applications of mixtures and solutions.

Student teams investigate the properties of electromagnets. They create their own small electromagnets and experiment with ways to change their strength to pick up more paperclips. Students learn about ways that engineers use electromagnets in everyday applications.

Students explore the inhalation/exhalation process that occurs in the lungs during respiration. Using everyday materials, each student team creates a model pair of lungs.

With an introduction to the ideas of energy, students discuss specific energy types and practical energy sources. Associated hands-on activities help them identify energy types in their surroundings and enhance their understanding of the concept of energy.

Students learn how to classify materials as mixtures, elements or compounds and identify the properties of each type. The concept of separation of mixtures is also introduced since nearly every element or compound is found naturally in an impure state such as a mixture of two or more substances, and it is common that chemical engineers use separation techniques to separate mixtures into their individual components. For example, the separation of crude oil into purified hydrocarbons such as natural gas, gasoline, diesel, jet fuel and/or lubricants.
Last updated 5 hour(s) ago