Summary
Students learn about material reuse by designing and building the strongest and tallest towers they can, using only recycled materials. They follow design constraints and build their towers to withstand earthquake and high wind simulations.
This engineering curriculum meets Next Generation Science Standards (NGSS).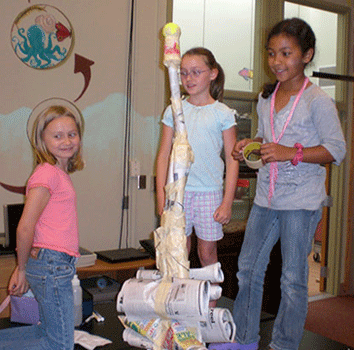 Engineering Connection
As the movement to reduce, reuse and recycle gains momentum, many engineers have become increasingly focused on incorporating reused and recycled materials into building designs. Civil, mechanical and environmental engineers work together to find ways to reuse materials in new homes and buildings without sacrificing function, comfort, beauty or reliability.
Learning Objectives
After this activity, students should be able to:
Select a solution consistent with given constraints and explain why it was chosen.
Describe the steps of the engineering design process.
Collect information to evaluate the solution for a design problem.
More Curriculum Like This
Educational Standards

Each TeachEngineering lesson or activity is correlated to one or more K-12 science, technology, engineering or math (STEM) educational standards.

All 100,000+ K-12 STEM standards covered in TeachEngineering are collected, maintained and packaged by the Achievement Standards Network (ASN), a project of D2L (www.achievementstandards.org).

In the ASN, standards are hierarchically structured: first by source; e.g., by state; within source by type; e.g., science or mathematics; within type by subtype, then by grade, etc.
Suggest an alignment not listed above
Materials List
Each group needs:
1 ft2 (0.1 m2) piece of cardboard
1 tennis ball
4 aluminum cans
12 sheets of newspaper
4 750-ml plastic bottles (such as soda bottles)
6 plastic yogurt cups
5 ft (1.5 m) string
5 ft (1.5 m) masking tape
1 pair of scissors
1 stopwatch
Recycled Towers Worksheet, one per student
To share with the entire class:
Introduction/Motivation
Do you ever wonder what happens to all the trash you throw away? Almost all of it ends up in landfills, which only have limited space. If we keep adding trash to landfills at our current rate, we will eventually fill up our landfills. Can you imagine what that would be like? With all the landfills full, what would we do with all our garbage? Surprisingly, a lot of the "trash" that ends up in landfills could actually be reused. Wouldn't it be great if people built homes from all the scrap pieces of metal, plastic, glass and other unwanted materials lying around? If we start using recycled garbage in buildings now, maybe we can reduce the amount of trash that ends up in landfills.
Some engineers have already started building homes and other buildings by reusing things other people would consider garbage. These engineers are continually working to find better ways to build homes and other buildings using recycled materials. Some new designs use old shipping containers for walls, collections of glass bottles for windows, and old pieces of tires as roofing material. Can anyone think of some other waste materials engineers could use in buildings? How could they be used? (For examples of homes with reusable materials, see: http://solar.colorado.edu/index.html, http://makewealthhistory.org/?s=mockbee, http://www.thedailygreen.com/green-homes/latest/shipping-container-homes-460309).
Today, we will get to reuse various materials, such as cans and newspaper, to design our very own towers! We want to prove that our towers are just as strong as buildings made from conventional or typical building materials, so we will also test our towers. Each building will undergo a wind test and an earthquake test. To add more of a challenge, you will have constraints just like real engineers. For example, your tower must be at least three feet tall and be able to hold a tennis ball on top. Sounds like a challenge we all can handle!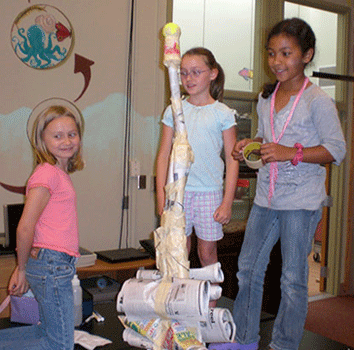 Vocabulary/Definitions
constraint: A requirement that must be satisfied for a design to be successful.
recycle: Treating or processing waste so that it can be reused.
reuse: Using materials again, often for something other than what they were made for in order to keep it from being thrown away. For example, using an old t-shirt as a rag.
Procedure
Before the Activity
Gather materials.

Students build a three foot-high tower that can support a tennis ball on top.

Make copies of the attached Recycled Towers Worksheet, one per student.
Prepare to project the attached Recycled Towers Presentation.
Divide the class into groups of three students each.
With the Students
Project the Recycled Towers Presentation to the front of the class. Introduce students to the importance of recycling and reusing.
Explain the challenge: Students groups apply the recycling and reusing principles by building the tallest tower they can, using only recycled materials.
Clarify the design constraints: minimum three-foot height, cardboard base, strong enough to support a tennis ball on top, ability to withstand wind and earthquake test.
Review the following engineering design process and activity overview information with students:
Now that you know about the constraints for this challenge, let's discuss the engineering design process. The time-tested steps of the engineering design process help engineers find good solutions to problems they face.The first step is to identify the problem, which we have already done. Our problem is to figure out how to build a tower made from materials that would otherwise end up in the trash and add to landfills. The next step is to brainstorm for ideas. When you get into your groups, you will all brainstorm ideas. No idea is too crazy! Say anything that comes to mind and take notes to keep track of all ideas. Then, your group agrees on one best idea from the brainstorming session as your design. When you draw plans for your design, make sure to label the materials. Once completed, show me (the teacher) your design. If I approve it, you can get your materials and move on to the building step! What do you think your group will do once you finish building? (Answer: Test.) You will test your structure to make sure it can withstand a wind test and an earthquake test. If it does not survive either test, what do you think you should do next? (Answer: Redesign, rebuild, retest.) You will redesign first, and then rebuild your tower according to the new design by reusing materials from your last design and/or incorporating additional materials. Once your new tower is complete, you can go back through the testing step. Just like engineers in the real world, you will repeat this as many times as necessary until you have a building that survives both tests. Let's begin!
Hand out the worksheets.
Give groups time to brainstorm and design their towers.
Allow one group at a time to collect its materials.
Give students approximately 30 minutes to build their towers (this may be presented an additional design constraint).
After teams complete their towers, test each tower's ability to withstand the forces of nature. For the wind test, place the tower in front of a fan. Turn the fan on high for 30 seconds. Time how long the tower survives. Encourage students to make observations and record them on their worksheets. For the earthquake test, lightly shake the cardboard base of the tower for 30 seconds. Again, time how long the tower survives, and have students make and record observations on their worksheets.
Have groups tear down their towers and sort the materials for recycling,
Close with a class discussion in which groups share some results, reflections and conclusions about their final tower designs. What design strategies were used in the most successful towers?

Example completed recycled towers.
Safety Issues
Remind students to be careful when using scissors. To avoid injuries, consider only having the teacher make cuts on harder materials, such as plastic bottles and yogurt cups.
Troubleshooting Tips
Remind students that they only get five feet of tape for the entire activity. Encourage them to conserve their supplies and only use a foot or two in their first designs. That way, if they need to redesign and rebuild, they have enough tape.
Assessment
Pre-Activity Assessment
Class Discussion: As a class, discuss possible ways to reuse materials around the house. (Possible examples: Reusing plastic and glass containers for food storage, using plastic sandwich bags multiple times, using old t-shirts or sheets as cleaning rags, etc.) Also discuss how we, as a society, could reuse materials for buildings. To generate discussion, go over the recycled materials shown in the Recycled Towers Presentation (such as using plastic for lumber, recycled bottles for windows, etc.).
Activity Embedded Assessment
Recycled Towers Worksheet: Have students use the Recycled Towers Worksheet.to guide them through the activity. Review their drawings, data and answers to gauge their mastery of the subject matter.
Post-Activity Assessment
Commercial Break: Have groups come up with commercials or skits to perform in front of the class. The goal of the commercial is to explain how the tower was built, why people should want to live in the tower, and why recycling and reusing is important for society.
Activity Extensions
Have students each weigh their family's trash before it is taken to the dumpster. Keep track of how much trash each child's family produces over the course of two weeks. Challenge the students to calculate how much trash was generated by all the families of the kids in their class during this time period. To incorporate more math, have students multiply this number out to reflect a year, or 10 years. Explain to students that even more waste is being produced from manufacturing, businesses, restaurants, mining, etc. Have students brainstorm how some of that waste can be reused or reduced, or never created in the first place!
Activity Scaling
For lower grades, reduce the tower height requirement to two feet and do not require students to complete the second page of the Recycled Towers Worksheet.
For upper grades, increase the weight at the top of each tower and provide a wider variety of materials.
Contributors
Jonathan McNeil; Malinda Schaefer Zarske; Jake Crosby; William Surles; Carleigh Samson
Copyright
© 2012 by Regents of the University of Colorado.
Supporting Program
Integrated Teaching and Learning Program, College of Engineering, University of Colorado Boulder
Acknowledgements
The contents of this digital library curriculum were developed under a grant from the Fund for the Improvement of Postsecondary Education (FIPSE), U.S. Department of Education and National Science Foundation GK-12 grant no. 0338326. However, these contents do not necessarily represent the policies of the Department of Education or National Science Foundation, and you should not assume endorsement by the federal government.
Last modified: August 4, 2017