Quick Look
Grade Level: 5 (3-5)
Time Required: 1 hours 45 minutes

50 minutes (Day 1: Completion of the activity worksheet may be spread over two days, as needed)

50 minutes (Day 2: Observation and assessment)
Lesson Dependency: None
Subject Areas: Science and Technology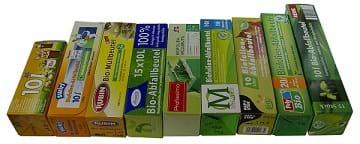 Summary
Students explore the concept of "reducing" solid waste and how it relates to product packaging and engineering advancements in packaging materials. They read about and evaluate the highly publicized packaging decisions of two major U.S. corporations. Then they evaluate different ways to package items in order to minimize the environmental impact, while considering issues such as cost, availability, product attractiveness, etc. In addition, students explore "hydropulping" and consider its use as a recycling process.
This engineering curriculum aligns to Next Generation Science Standards (NGSS).
Engineering Connection
Aseptic packaging is an incredible innovation developed by engineers to protect sterile products from contamination by locking out light and air, while sealing in nutrients and flavor. Due to the multi-layer packaging, dairy products in aseptic packaging can remain on a grocery store shelf for up to a year without refrigeration. Engineers play a key role in the creation of these very inventive packing products from the design stage through the implementation/development stage, as well as their end-of-life processing.
Learning Objectives
After this activity, students should be able to:
Identify packaging qualities that make it environmentally friendly or unfriendly.
Describe some different points of view around product packaging (the manufacturer, consumer, etc.).
Suggest/invent a more environmentally friendly package for a familiar item that currently has wasteful packaging.
Analyze environmental packaging and waste data using percentages, ranking and graphing.
Educational Standards

Each TeachEngineering lesson or activity is correlated to one or more K-12 science, technology, engineering or math (STEM) educational standards.

All 100,000+ K-12 STEM standards covered in TeachEngineering are collected, maintained and packaged by the Achievement Standards Network (ASN), a project of D2L (www.achievementstandards.org).

In the ASN, standards are hierarchically structured: first by source; e.g., by state; within source by type; e.g., science or mathematics; within type by subtype, then by grade, etc.
Suggest an alignment not listed above
Worksheets and Attachments
Visit [

www.teachengineering.org/lessons/view/cub_environ_lesson05_activity1

] to print or download.
Introduction/Motivation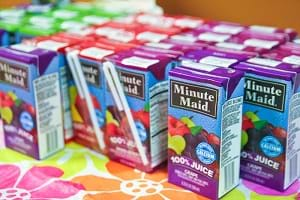 Did you know that $1 of every $10 that we spend goes for the packaging that we simply end up throwing away? And, to top it all off, packaging represents 65% of our household trash! In the early 1990s, the Coca-Cola Company and McDonald's made some important packaging decisions that currently affect some of the foods we eat. Engineers developed the aseptic box (juice box), which Coca-Cola began using for single servings of their Minute Maid® juices. In response to a public outcry about the containers, McDonald's asked its manufacturing engineers to make changes to the polystyrene foam "clamshell" food boxes they used. Engineers originally changed the chemical used to produce these boxes, and later, McDonald's entirely discontinued their use of the foam boxes.
Aseptic packages (commonly known as the "drink box") are an incredible engineering accomplishment. They combine the best attributes of paper, plastic and aluminum. The multi-layer, high-performance package locks out light and air, seals in nutrients and flavor, and enables its contents (even traditionally perishable products like milk) to remain un-refrigerated for months. It is a excellent example of engineers using materials to create something lightweight and useful. Of course, the biggest problem with drink boxes is that they do not simply decompose in a landfill for many years.
One method of recycling these drink boxes that is currently being tested by engineers is called hydropulping, which uses water to separate the box layers (see Figure 1). Any recovered paper is used to make products such as paper towels. The leftover aluminum and plastic layer materials are often used to produce objects such as flowerpots and plastic lumber.
Today, we are going to explore a simplified hydropulping process to determine whether or not drink boxes are an example of environmentally friendly packaging.
Vocabulary/Definitions
aseptic packages: A box-shaped package made from a laminate of three materials: high-quality paperboard, polyethylene (plastic) and aluminum. Commonly known as a "drink box."
hydropulping: The main process by which aseptic packages are recycled. Water and agitation are used to separate the package layers.
polystyrene: A solid plastic made from polymerized styrene.
styrene: A liquid petroleum by-product. It is also a naturally occurring substance present in many foods and beverages, including wheat, beef, strawberries, peanuts, coffee beans and cinnamon. Humans have known about styrene for centuries.
Assessment
Pre-Activity Assessment
Brainstorming: As a class, have students engage in open discussion. Remind them that in brainstorming, no idea or suggestion is "silly." All ideas should be respectfully heard. Encourage wild ideas and discourage criticism of ideas. Have students raise their hands to respond. Write their answers on the board. Ask the students to:
Describe the different purposes of packaging. (Possible answers: contents and product protection, ease of transport, ease of customer handling, attention-getting advertising, etc.) Do they have any new suggestions?
List the properties of a "perfect" environmental packaging. Provide suggestions for how this packaging could be made.
Activity Embedded Assessment
Chart: Read "The Fast Food Story" (found in Science is...A source book of fascinating facts, projects and activities) and "What's in Your Drink Box?" (found in Environmental Portraits – People Making a Difference for the Environment). As you read, have the class make a T-chart of the pros and cons of each issue (from an environmental perspective). Do this as a class or in small groups, depending on how you organize the reading.
Discussion Questions: After the readings, ask students to consider the following questions:
If you were the corporate executive who had to decide about these issues, what would you decide?
If you were the engineer in charge of the product manufacturing, how would you respond?
As a consumer, what will you decide about buying these types of products? It is important to figure out all the "Yes, buts..." for any product in order to make environmentally sound decisions when shopping. This is a necessary part of the "pre-cycling" process. Consider these ideas:
When this product is made, is the environment or the people who make it harmed in any way?
Is it packaged in a way such that I throw away more waste than the product is worth to me?
Will I be harming the air/water/land/people around me if I use this product?
Can the product be used by someone else when I am finished using it?
Can the materials be recycled when everyone is through with it?
Worksheet: Assign students to comlete the It Doesn't Add Up Worksheet during extra class time, spread over Days 1 and 2 of the activity, or as homework. Review their answers to gauge their mastery of the subject matter.
Post-Activity Assessment
Group Role Play: Ask students to assume the role of packaging engineers and design an example "perfect" environmental package for an item that currently has non-environmentally friendly packaging (perhaps use one of the example items). Have groups present their improved packages to the class.
Explain the product and how it is currently packaged (it is helpful to show an example if possible).
If possible, provide an example of the proposed redesigned packaging.
Explain why the new package is environmentally kinder. Make another T-chart to explain the pros and cons of the "new" packaging compared to the original packaging.
Lesson Extension Activities
Ask students to find out information about how your community currently deals with drink boxes and polystyrene. Are they accepted at a recycling program or put in the landfill? Is the recycling effort effective? Is it profitable? How are the recycled items used?
Have students create a pie (circle) chart from the worksheet data for materials and percentages that they used.
References
Aseptic Packaging Council, http://creec.edgateway.net/cs/creecp/view/creec_org/659
Blashfield, Jean F. and Black, Wallace B. Recycling (SOS Earth Alert). Childrens Press, Inc., 1991.
Bosak, Susan V. Science is...A source book of fascinating facts, projects and activities. Markham, Ontario: Scholastic Canada Ltd., 1991.
Energy Information Administration http://www.eia.doe.gov/
Polystyrene Packaging Council http://www.polystyrene.org/
Sakamoto Steidl, Kim. Environmental Portraits – People Making a Difference for the Environment. Boulder, CO: Good Apple, Inc., 1993.
Copyright
© 2005 by Regents of the University of Colorado
Contributors
Amy Kolenbrander; Jessica Todd; Malinda Schaefer Zarske; Janet Yowell
Supporting Program
Integrated Teaching and Learning Program, College of Engineering, University of Colorado Boulder
Acknowledgements
The contents of this digital library curriculum were developed under grants from the Fund for the Improvement of Postsecondary Education (FIPSE), U.S. Department of Education and National Science Foundation (GK-12 grant no. 0338326). However, these contents do not necessarily represent the policies of the Department of Education or National Science Foundation, and you should not assume endorsement by the federal government.
Last modified: April 19, 2019