Quick Look
Grade Level: 7 (6-8)
Time Required: 3 hours

(conducted over two days)
Expendable Cost/Group: US $20.00

Costs may be variable depending upon the following: what materials the instructor has on hand; what can be substituted to use as different insulation materials within the shoe boxes; and how many groups in the class. The activity will work as long as students are provided with enough novel materials to choose from in order to demonstrate insulating versus conducting materials within their cooler.
Group Size: 3
Activity Dependency: None
Subject Areas: Measurement, Physical Science, Problem Solving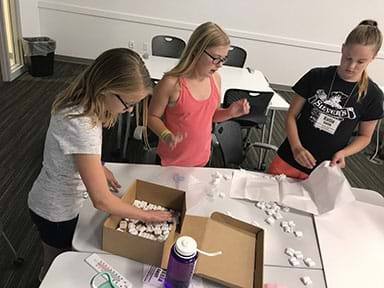 Summary
Students learn and apply concepts in thermodynamics and energy—mainly convection, conduction, and radiation— to solve a challenge. This is accomplished by splitting students into teams and having them follow the engineering design process to design and build a small insulated box, with the goal of keeping an ice cube and a Popsicle from melting. Students are given a short traditional lecture to help familiarize them with the basic rules of thermodynamics and an introduction to materials science while they continue to monitor the ice within their team's box.
This engineering curriculum aligns to Next Generation Science Standards (NGSS).
Engineering Connection
Students follow the engineering design process while building and designing their team's cooler. This allows students to play the role of engineers who are using design-thinking to approach a problem to help improve insulating technology. Engineering applications that use thermal dynamics range from insulating the walls of a house to keeping hot chocolate warm inside a mug. Just like engineers, students have time to iterate and retest their designs more than once.
Learning Objectives
After this activity, students should be able to:
Explain the background concepts to materials and thermodynamics.
Describe the concepts of convection, conduction, and radiation in everyday life.
Recognize and list common insulators and conductors.
Explain the steps in the engineering design process.
Explain why engineers re-design and re-test their designs many times.
Educational Standards

Each TeachEngineering lesson or activity is correlated to one or more K-12 science, technology, engineering or math (STEM) educational standards.

All 100,000+ K-12 STEM standards covered in TeachEngineering are collected, maintained and packaged by the Achievement Standards Network (ASN), a project of D2L (www.achievementstandards.org).

In the ASN, standards are hierarchically structured: first by source; e.g., by state; within source by type; e.g., science or mathematics; within type by subtype, then by grade, etc.
Suggest an alignment not listed above
Materials List
Each group needs:
a cardboard shoe box (each group should use boxes that are roughly the same size)
bubble wrap
masking tape
duct tape
aluminum foil
X-Acto knives. 2 pair, or similar pen knives   
scissors, 2 pair
heat lamp, available on Amazon (a blow dryer also works, but this may extend testing time if there is only one available)
thermometers, 1 for internal and 1 for external readings, available on Amazon
foam core (of a few different thicknesses)
Styrofoam bowls
ice (30 grams per student group)
Popsicles (at least 1 per student group; teachers can make a preference on whether or not students can eat them following the experiment)
packing peanuts
colored pencils
To share with the entire class:
Worksheets and Attachments
Visit [

www.teachengineering.org/activities/view/nds-2335-cooler-challenge-engineering-design-process

] to print or download.
Pre-Req Knowledge
A general understanding of heat as an energy source.
Introduction/Motivation
Imagine for a minute that you're going on a car camping trip with friends. You made your checklist and you have everything you need: tent, food and drink, firewood, and ice. However, you realize that you forgot an important item for the weekend: a cooler! Since it's a busy weekend to go camping, all of the stores near you are sold out of coolers—what can you do? At this moment, it is time to remove your camping hat for a moment and put in your thinking cap. You rummage through your house and find a number of supplies that could help you solve this problem, including some material that may help you build a do-it-yourself cooler for the weekend. The question is, are you supplies adequate enough to build a cooler that will keep the ice from melting and your food supplies from spoiling?
Proper insulation is a key aspect in several different engineering applications, from the walls of your house to keeping the coffee in your mug warm. In order to find the best way to keep things warm or cool, engineers must design and test different materials to discover which insulators work best. Your challenge: to design a cooler that can keep ice cubes and a Popsicle in a solid state for the longest period of time. Your constraints are limited supplies to construct the cooler and each stage of the engineering design as well as working under the clock!  
Procedure
Background
When atoms or molecules move within a substance, kinetic energy can transform into thermal energy, which is energy related to temperature change. Heating is the transfer of thermal energy is from one object to another, where thermal energy moves from a warmer object to a cooler object. For example, a hot cup of coffee transfers thermal energy to the cooler air surrounding it.
Thermal energy moves in three ways: via radiation, convection, and conduction. Radiation is a method of heat transfer that does not rely upon any contact between the heat source and the heated object, opposed to conduction and convection. Roasting a marshmallow over a fire is an example of using radiant heat. Convection is the transfer of heat from one place to another by the movement of heated fluids, such as air or water, which carry thermal energy away from the source. Steaming vegetables in a pot is an example of convection. Conduction is the movement of heat from one solid to another one, which have different temperatures when they are touching each other, such as cooking a pancake or eggs on a hot griddle.
Before the activity:
Gather the materials for the students to use to construct the cooler.
Place the supplies on a table for students to inspect.
Make copies of the Cooler Design and Data Sheet for students to record their data.
Gather colored pencils for groups to graph their data.
With Students:
Day 1:
Share the Cooler Design Challenge PowerPoint Presentation with students to start the challenge and present slides 1 through 4.
Have students write or draw what they believe the engineering design process looks like as a Pre-Activity Assessment.
Finish presenting the Cooler Design Challenge PowerPoint Presentation; note that Slide 5 reviews the engineering design process from the Pre-Activity Assessment.
Hand out the Cooler Design and Data Sheet to students.
Explain the challenge to the class: "You have been presented with a challenge to design a cooler that can keep ice cubes and a Popsicle in a solid state the longest. Your constraints are limited supplies to construct the cooler, and each stage of the engineering design process will be timed." 
Split students into groups of two or three.
Allow students to walk around the table of supplies and start their brainstorming process.  Allow them five minutes to draw and label their ideas on the Cooler Design Data Sheet.
Send one person from the group to collect the supplies.
Students will need to start testing their materials with the heat gun or blow dryer on one side of their material, while another student reads the temperature on the opposite side.  Allow roughly for five minutes of testing for each side of the material.   
After the students test all of their materials, they can start to construct their cooler design or replace old materials for new materials.
Day 2:  
Once each group builds a design, have students place a Popsicle and 30 grams of ice in the cooler. Place the internal thermometer inside the cooler and tape the cooler shut. The outside thermometer should be taped to the top of the cooler for an external temperature reading to compare thermal measurements.   
Student will test their designs for 30 minutes. Start the timer and set it for five minute intervals with the heat gun facing their cooler. Students will test their design and see if it holds up.
Remind students to record results of both thermometers reading in the Cooler Design and Data Sheet.
After 30 minutes of testing, open the cooler and observe the Popsicle, students will record observations both qualitative and quantitative.
Have students remove the ice out of cooler and re-measure the amount of grams of ice remaining. 
Ask students to analyze all their data and present the class with the Investigating Questions to direct their analysis.  
Tell students to revisit the engineering design process and communicate their results; revisit asking or identifying a problem; discuss if there are any changes that need to be made to improve the functioning of their cooler to keep the ice cold longer.
Have students communicate their results through the Post-Activity Assessment. Students can make a presentation to share their design, testing, results, and how they altered their design to make it more thermally efficient.
Vocabulary/Definitions
absorb: In physics, to transform radiant energy into a different form usually with a resulting rise in temperature.
conduction: The process by which heat or electricity is directly transmitted through a substance when there is a difference of temperature or of electrical potential without movement of the material.
conductor: A material or an object that allows heat, electricity, light, and/or sound pass easily through it.
convection: The movement caused within a fluid by the tendency of hotter and, therefore, less dense material to rise and colder, denser material to sink under the influence of gravity, which consequently results in transfer of heat.
insulator: A material or an object that does not easily allow heat, electricity, light, or sound to pass through it.
radiant energy: Energy (as heat waves, light waves, radio waves, x-rays) transmitted in the form of electromagnetic waves.
radiation: The emission of energy as electromagnetic waves or as moving subatomic particles, especially high-energy particles that cause ionization.
R-value: A measurement of how well certain building insulation materials can resist heat. The higher the R-value, the greater the insulation performance; R-value is expressed as rate of heat loss per hour per square foot per inch of thickness of material per degree Fahrenheit.
Assessment
Pre-Activity Assessment
Engineering Design Process: Ask students to write or draw the steps of the engineering design process before slide 5 in the Cooler Design Challenge PowerPoint Presentation.
Activity Embedded Assessment
Cooler Design Assessment:  Ensure that students are documenting their process of design by:
photos/videos of construction of cooler
graphing data pertaining to the temperature testing of materials
Post-Activity Assessment
Communication of Results: Students can create a presentation showing the Engineering Design Process steps they used in their challenge and share their evidence. 
Post-Assessment: Have students complete the Post-Activity Assessment.
Investigating Questions
What qualitative and quantitative data did you notice in the challenge?
Sample Answer: The Popsicle started to melt, the internal temperature of our cooler reached 90 degrees Fahrenheit.
How do they think you can improve the design?
Sample Answer: We could use different types of insulation or use different amounts of insulation.
What was the temperature difference, could it be improved and how? 
Sample Answer: The temperature difference is 30 degrees, we could use different materials.
What did other students do that worked or that did not work?
Sample Answer: Some used layers of packing peanuts whereas others used the bubble wrap.
What was the biggest design hurdle faced during the challenge?
Sample Answer: Agreeing with my partner on a design.
How did you overcome the limited constraints of materials?      
Sample Answer: Had to look at different ways to modify the use of the materials to aid in the design in the cooler.
How could you decrease the temperature further inside the cooler?
Sample Answer: Layer our materials to create a better insulation.
Was there a material that worked better than other materials?
Sample Answer: The bubble wrap worked better, it took up more space in the box.
Safety Issues
When students start testing with heat lamps, students should make sure to point them away from students and towards materials only.
X-Acto knife covers should be placed on knives when not in use; knives are used for cutting materials only (demonstrate the proper way to use an X-Acto knife while cutting materials).
Troubleshooting Tips
If students are struggling with figuring out how to get started on creating a cooler, have them reflect on what they know about an average cooler including size, shape, or thickness.
Images of ideas are included in Figure 1. 
Materials: if your budget does not allow for buying a lot of extra materials, have student supplement the project with recycled materials such as leftover packing peanuts, bubble wrap, recycled cardboard, or milk cartons from lunch. Let your students discover if a material could be a conductor or an insulator. 

Copyright
© 2019 by Regents of the University of Colorado; original © 2018 North Dakota State University
Contributors
Laurie Salander
Supporting Program
RET Program, College of Engineering, North Dakota State University Fargo
Acknowledgements
This curriculum was developed in the College of Engineering's Research Experience for Teachers: Engineering in Precision Agriculture for Rural STEM Educators program supported by the National Science Foundation under grant no. EEC 1542370. However, these contents do not necessarily represent the policies of the NSF, and you should not assume endorsement by the federal government.
Special thanks to Alan Kallmeyer and Bradley Bowen.
Last modified: March 26, 2019