Quick Look
Grade Level: 9 (9-12)
Time Required: 45 minutes
Expendable Cost/Group: US $0.00
Group Size: 3
Activity Dependency:
Subject Areas: Biology

Summary
Is the food chain shown above accurate? Does the first link depict a producer, the second link a herbivore, and the third link an omnivore / carnivore? Students must correctly determine whether a species is a producer or consumer, and what type of consumer; herbivore, omnivore, or carnivore. Students are provided with a list of Sonoran Desert species and asked to construct, within their groups, several food chains. These food chains are then be used to construct a food web. In order to complete this activity, students must first research the individual species to understand their feeding habits.
This engineering curriculum aligns to Next Generation Science Standards (NGSS).
Engineering Connection
This activity requires students to discover the design of food chains and food webs and then must understand how the two fit together. Understanding the current design before modifying or adding to it is very important in the engineering design process. It also begins to lay the foundations of understanding how natural systems provide for themselves. As students continue in their study of ecological relationships, bridges begin to form that allow them to connect ecological relationships to the fundamentals of engineering design.
Learning Objectives
After this activity, students should be able to:
Understand how to construct a food chain.
Understand how to construct a food web.
Develop a deeper understanding for how a community's health is dependent upon the species and type of species that live there.
Educational Standards

Each TeachEngineering lesson or activity is correlated to one or more K-12 science, technology, engineering or math (STEM) educational standards.

All 100,000+ K-12 STEM standards covered in TeachEngineering are collected, maintained and packaged by the Achievement Standards Network (ASN), a project of D2L (www.achievementstandards.org).

In the ASN, standards are hierarchically structured: first by source; e.g., by state; within source by type; e.g., science or mathematics; within type by subtype, then by grade, etc.
Suggest an alignment not listed above
Materials List
Species List Handout, one per student
Internet access for research, for all students
large sheets of drawing paper
reference books for researching these desert species; suggested titles:
House in the Sun: A Natural History of the Sonoran Desert by George Olin
A Natural History of the Sonoran Desert by Steven J. Phillips (editor), Patricia Wentworth Comus (editor)
Arizona-Sonoran Desert Museum Book of Answers by David Wentworth Lazaroff
Worksheets and Attachments
Visit [

www.teachengineering.org/activities/view/van_biomimicry_activity2

] to print or download.
More Curriculum Like This
Got Energy? Spinning a Food Web
Students learn about energy flow in food webs, including the roles of the sun, producers, consumers and decomposers in the energy cycle. They model a food web and create diagrams of food webs using their own drawings and/or images from nature or wildlife magazines.
Computer Simulation of the Sonoran Desert Community
Use of the computer program's simulation of a Sonoran Desert community ultimately strengthens students' comprehension of what is required for a natural ecosystem to sustain itself (remain in balance). Students can manipulate the population numbers of five Sonoran Desert species.

Tracing Fluorescent Plastics in an Aquatic Environment
Students investigate the migration of small particles of plastic pollution by exposing invertebrates to fluorescent bead fragments in a controlled environment composed of lake or stream water. They set up microcosm models, introduce microbeads, and collect data using microscopes and blacklights. The...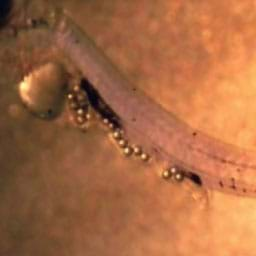 Introduction/Motivation
In the activity, we will construct food chains and food webs with species endemic to the Sonoran Desert. Organisms, regardless of whether they are plants or animals, cannot live within a particular ecological community unless they have food resources available to them. All species have specific nutritional requirements. If a particular community is deficient in those requirements, that species will not be able to inhabit that area. It seems logical to understand that a fox squirrel that feeds on acorns would be unsuccessful in inhabiting a desert that lacks such plant growth.
You should be developing awareness that complex food webs are more dynamic and healthier than small food webs constructed from only a minimal number of species and links. Your group should develop multiple food chains from which a large, multi-linked food chain can be built.
The study of these organisms and their balanced, highly functional ecosystems is viewed as a resource for the engineering design of sustainable products and community models. Who are the members of the community and how is this complicated food web balanced? You will learn how these organisms function within their communities to interact in various food chains. Multiple food chains link together to form intricate and balanced food webs. Engineers must first be familiar with the subject matter and environment before they begin to design anything. With this activity, you will explore the design of food chains and food webs. By studying these ecological relationships, you will see the connection between ecological relationships of organisms to the fundamentals of engineering design. Food chains and food webs describe the way in which organisms that live within the same community obtain their food. These relationships also explain how these communities of organisms maintain themselves over countless years and generations.
Engineers can also use mathematics to model certain aspects of a food chain or food web, such as the flow of energy. In order to do this, engineers must first have construct appropriate food chains and food webs describing the true relationships among the species involved - just like you will do in this activity! Once this is accomplished, it's important to understand that for almost every food web that exists on the planet, the sun is the source of the energy which flows through the food web and all the species of animals and plants involved. Plant species are able to capture the sun's energy, and we can measure this in calories. The species that eats the plant is part of the next trophic level, and only capture approximately 10% of the sun's energy gained by the plant; the other 90% of the energy is lost. For example, if a particular plant captured 5000 calories of the sun's energy, an insect that eats that plant will only capture 500 calories of the sun's energy. The same will happen at the next trophic level; this means that if a larger animal ate the insect, that animal will only capture approximately 10% of the sun's energy, which in this case will be 50 calories. Following this approximate 10% rule of thumb, we can create the equation: EA = OC *(0.1)(n - 1), where EA = energy available, OC = original calories (this represents the sun's energy captured by the first trophic level) and n=trophic level. From first creating a correct food chain, we can use this mathematical model to understand the flow of energy through the food chain.
Procedure
Background
This activity introduces students to a basic, but foundational concept of all natural systems. Resources, in this case food, must be available to support its species. Once this concept is mastered, resource limitations and population dynamics can be introduced in the following lesson.
Before the Activity
Gather materials and make copies of the Species List Handout, one per student.
It is extremely helpful to provide images of these species to better familiarize students with the species. One way to accomplish this is to access The Animal Diversity Web at http://animaldiversity.ummz.umich.edu/site/index.html
With the Students
Describe the activity by presenting the Introduction/Motivation section.
Divide the class into small groups (3) and have teams determine which students research which species.
Then suggest that they organize their species into groups of producers and consumers. Further divide the consumers into herbivores, omnivores and carnivores.
Once the species are classified by feeding requirements, have them begin to construct food chains.
Once students have completed their food chains, show them the Example Food Chain and Mathematical Modeling of Energy Flow. This helps them see an example food chain, along with the flow of energy, represented mathematically.
Have students use their completed food chains to construct the final food web.
Assessment
Activity Embedded Assessment: Review and grade students' assignments to determine their accuracy in correctly identifying species' feeding requirements. T obe correct, students must have created food chains beginning with producersand linked next to herbivores.
Investigating Questions
Are all species generalists? Do they feed on a diverse type of foods?
Through your research did you discover any species that are specialists and very limited on what they eat? Some of these feeding specialties might be to only eat seeds or only fruits. Some species may feed only on insects.
Activity Scaling
For lower grades, provide more time for group discussions and fewer species.
For upper grades, provide less guidance on how to divide the groups of species.
Copyright
© 2013 by Regents of the University of Colorado; original © 2006 Vanderbilt University
Contributors
Wendy J. Holmgren; Megan Johnston; Amber Spolarich
Supporting Program
VU Bioengineering RET Program, School of Engineering, Vanderbilt University
Last modified: February 19, 2019