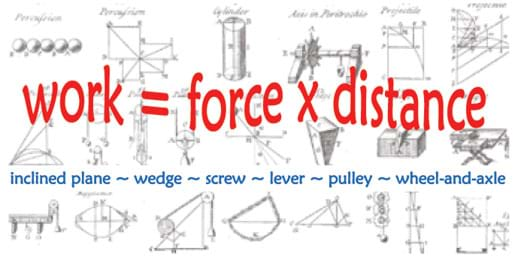 Summary
Through a five-lesson series with five activities, students are introduced to six simple machines—inclined plane, wedge, screw, lever, pulley, wheel-and-axle—as well as compound machines, which are combinations of two or more simple machines. Once students understand about work (work = force x distance), they become familiar with the machines' mechanical advantages, and see how they make work easier. Through an introduction to compound machines, students begin to think critically about machine inventions and their pervasive roles in our lives. After learning about Rube Goldberg contraptions—absurd inventions that complete simple tasks in complicated ways—they evaluate the importance and usefulness of the many machines around them. Through the hands-on activities, students draw designs for contraptions that could move a circus elephant into a rail car, create a construction site ramp design by measuring different inclined planes and calculating the ideal vs. actual mechanical advantage of each, compare the theoretical and actual mechanical advantages of different pulley systems conceived to save a whale, build and test grape catapults made with popsicle sticks and rubber bands, and follow the steps of the engineering design process to design and build Rube Goldberg machines.
This engineering curriculum meets Next Generation Science Standards (NGSS).
Engineering Connection
The fundamental mechanical devices that have come to be known as "simple machines" through the years are basic human inventions that help accomplish physical tasks through mechanical advantage. The same simple machines used by ancient engineers to build pyramids are employed by today's engineers to construct modern structures such as houses, bridges, roller coasters and skyscrapers. From everyday hand tools (crowbars, nails, wheels, ramps) to intricate "compound machines" that marry together many simple machines in endless combinations (pencil sharpeners, bicycles, elevators, medical devices, airplanes), engineers of all types continually work together to design better and more creative tools, devices, equipment and products of modern convenience that help people do more with less, incorporating the principles of simple machines.
More Curriculum Like This
Educational Standards

Each TeachEngineering lesson or activity is correlated to one or more K-12 science, technology, engineering or math (STEM) educational standards.

All 100,000+ K-12 STEM standards covered in TeachEngineering are collected, maintained and packaged by the Achievement Standards Network (ASN), a project of D2L (www.achievementstandards.org).

In the ASN, standards are hierarchically structured: first by source; e.g., by state; within source by type; e.g., science or mathematics; within type by subtype, then by grade, etc.
Plan an investigation to provide evidence that the change in an object's motion depends on the sum of the forces on the object and the mass of the object. (Grades 6 - 8) More Details

Science & Engineering Practices
Disciplinary Core Ideas
Crosscutting Concepts

Plan an investigation individually and collaboratively, and in the design: identify independent and dependent variables and controls, what tools are needed to do the gathering, how measurements will be recorded, and how many data are needed to support a claim.

Science knowledge is based upon logical and conceptual connections between evidence and explanations.

The motion of an object is determined by the sum of the forces acting on it; if the total force on the object is not zero, its motion will change. The greater the mass of the object, the greater the force needed to achieve the same change in motion. For any given object, a larger force causes a larger change in motion.

All positions of objects and the directions of forces and motions must be described in an arbitrarily chosen reference frame and arbitrarily chosen units of size. In order to share information with other people, these choices must also be shared.

Explanations of stability and change in natural or designed systems can be constructed by examining the changes over time and forces at different scales.

Do you agree with this alignment? Thanks for your feedback!

Define the criteria and constraints of a design problem with sufficient precision to ensure a successful solution, taking into account relevant scientific principles and potential impacts on people and the natural environment that may limit possible solutions. (Grades 6 - 8) More Details

Science & Engineering Practices
Disciplinary Core Ideas
Crosscutting Concepts

Define a design problem that can be solved through the development of an object, tool, process or system and includes multiple criteria and constraints, including scientific knowledge that may limit possible solutions.

The more precisely a design task's criteria and constraints can be defined, the more likely it is that the designed solution will be successful. Specification of constraints includes consideration of scientific principles and other relevant knowledge that is likely to limit possible solutions.

All human activity draws on natural resources and has both short and long-term consequences, positive as well as negative, for the health of people and the natural environment.

The uses of technologies and any limitations on their use are driven by individual or societal needs, desires, and values; by the findings of scientific research; and by differences in such factors as climate, natural resources, and economic conditions.

Do you agree with this alignment? Thanks for your feedback!
Fluently add, subtract, multiply, and divide multi-digit decimals using the standard algorithm for each operation. (Grade 6) More Details

Do you agree with this alignment? Thanks for your feedback!
Suggest an alignment not listed above
Unit Overview
Overview of topics by lesson: 1) work [as defined by physical science] and the mechanical advantages of six simple machines that make work easier, 2) more about the inclined plane, wedge and screw, including each machine's mechanical advantages and work = force x distance, 3) more about the lever, pulley, and wheel-and-axle, 4) introduction to compound machines including an examination of machine inventions and their place in our everyday lives, and 5) introduction to Rube Goldberg contraptions, known for making simple tasks more difficult to complete, as a way to engage students in critical thinking to evaluate everyday machines.
Contributors
See individual lessons and activities.
Copyright
© 2007 by Regents of the University of Colorado
Supporting Program
Integrated Teaching and Learning Program, College of Engineering and Applied Science, University of Colorado Boulder
Acknowledgements
This digital library content was developed by the Integrated Teaching and Learning Program under National Science Foundation GK-12 grant no. 0338326. However, these contents do not necessarily represent the policies of the National Science Foundation, and you should not assume endorsement by the federal government.
Last modified: March 18, 2019