Students explore the physics exploited by engineers in designing today's roller coasters, including potential and kinetic energy, friction and gravity. First, they learn that all true roller coasters are completely driven by the force of gravity and that the conversion between potential and kinetic energy is essential to all roller coasters. Second, they consider the role of friction in slowing down cars in roller coasters. Finally, they examine the acceleration of roller coaster cars as they travel around the track. During the associated activity, students design, build and analyze model roller coasters they make using foam tubing and marbles (as the cars).

Student teams investigate the properties of electromagnets. They create their own small electromagnets and experiment with ways to change their strength to pick up more paperclips. Students learn about ways that engineers use electromagnets in everyday applications.

In this hands-on activity, students investigate different methods—aeration and filtering—for removing pollutants from water. Working in teams, they design, build and test their own water filters—essentially conducting their own "dirty water projects." A guiding data collection worksheet is provided.

Students continue to explore the story of building a pyramid, learning about the simple machine called a pulley. They learn how a pulley can be used to change the direction of applied forces and move/lift extremely heavy objects, and the powerful mechanical advantages of using a multiple-pulley system. Students perform a simple demonstration to see the mechanical advantage of using a pulley, and they identify modern day engineering applications of pulleys. In a hands-on activity, they see how a pulley can change the direction of a force, the difference between fixed and movable pulleys, and the mechanical advantage gained with multiple / combined pulleys. They also learn the many ways engineers use pulleys for everyday purposes.

Students learn the different airplane parts, including wing, flap, aileron, fuselage, cockpit, propeller, spinner, engine, tail, rudder, elevator. Then they each build one of four different (provided) paper airplane (really, glider) designs with instructions, which they test in three trials, measuring flight distance and time. Then they design and build (fold, cut) a second paper airplane design of their own creation, which they also test for flight distance and time. They graph the collected class data. Analysis of these experiments with "model" airplanes and their results help them see and figure out what makes airplanes fly and what can be changed to influence the flying characteristics and performance of airplanes.

What makes rockets fly straight? What makes rockets fly far? Why use water to make the rocket fly? Students are challenged to design and build rockets from two-liter plastic soda bottles that travel as far and straight as possible or stay aloft as long as possible. Guided by the steps of the engineering design process, students first watch a video that shows rocket launch failures and then participate in three teacher-led mini-activities with demos to explore key rocket design concepts: center of drag, center of mass, and momentum and impulse. Then the class tests four combinations of propellants (air, water) and center of mass (weight added fore or aft) to see how these variables affect rocket distance and hang time. From what they learn, student pairs create their own rockets from plastic bottles with cardboard fins and their choices of propellant and center of mass placement, which they test and refine before a culminating engineering field day competition. Teams design for maximum distance or hang time; adding a parachute is optional. Students learn that engineering failures during design and testing are just steps along the way to success.

Students build a saltwater circuit, which is an electrical circuit that uses saltwater as part of the circuit. Students investigate the conductivity of saltwater, and develop an understanding of how the amount of salt in a solution impacts how much electrical current flows through the circuit. They learn about one real-world application of a saltwater circuit — as a desalination plant tool to test for the removal of salt from ocean water.

Students explore how pendulums work and why they are useful in everyday applications. In a hands-on activity, they experiment with string length, pendulum weight and angle of release. In an associated literacy activity, students explore the mechanical concept of rhythm, based on the principle of oscillation, in a broader biological and cultural context — in dance and sports, poetry and other literary forms, and communication in general.

Simple machines are devices with few or no moving parts that make work easier. Students are introduced to the six types of simple machines — the wedge, wheel and axle, lever, inclined plane, screw, and pulley — in the context of the construction of a pyramid, gaining high-level insights into tools that have been used since ancient times and are still in use today. In two hands-on activities, students begin their own pyramid design by performing materials calculations, and evaluating and selecting a construction site. The six simple machines are examined in more depth in subsequent lessons in this unit.

Students learn about the types of possible loads, how to calculate ultimate load combinations, and investigate the different sizes for the beams (girders) and columns (piers) of simple bridge design. They learn the steps that engineers use to design bridges by conducting their own hands on associated activity to prototype their own structure. Students will begin to understand the problem, and learn how to determine the potential bridge loads, calculate the highest possible load, and calculate the amount of material needed to resist the loads.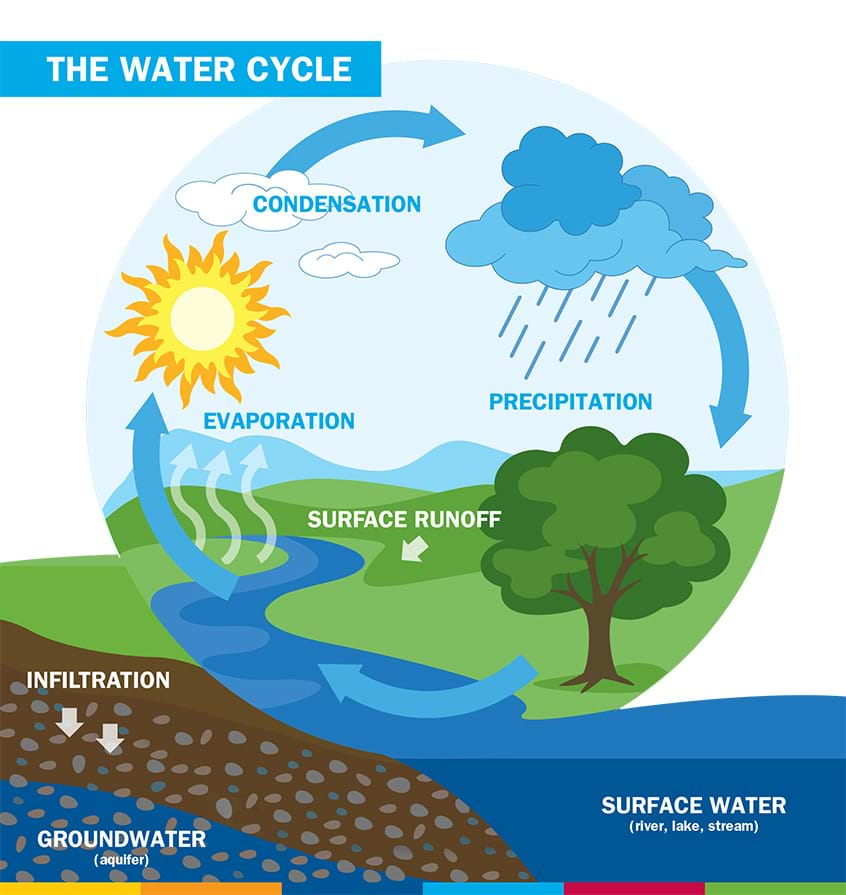 Water Cycle
Elementary School
Unit
Water is essential to life. Understanding how the water cycle works, the importance of water as a natural resource, and how our household water cycle functions is essential knowledge for everyone. Through a range of water-based explorations and the engineering design process, students learn about the water cycle and how engineers manage it.

Civil engineers design structures such as buildings, dams, highways and bridges. Student teams explore the field of engineering by making bridges using spaghetti as their primary building material. Then they test their bridges to see how much weight they can carry before breaking.

Design a Catapult
Middle School
Informal Learning Activity
Students design and build small catapults to launch candy pieces.

Students are introduced to the five fundamental loads: compression, tension, shear, bending and torsion. They learn about the different kinds of stress each force exerts on objects.

Potato Power
Elementary School
Activity
Students use potatoes to light an LED clock (or light bulb) as they learn how a battery works in a simple circuit and how chemical energy changes to electrical energy. As they learn more about electrical energy, they better understand the concepts of voltage, current and resistance.
Last updated 8 hour(s) ago