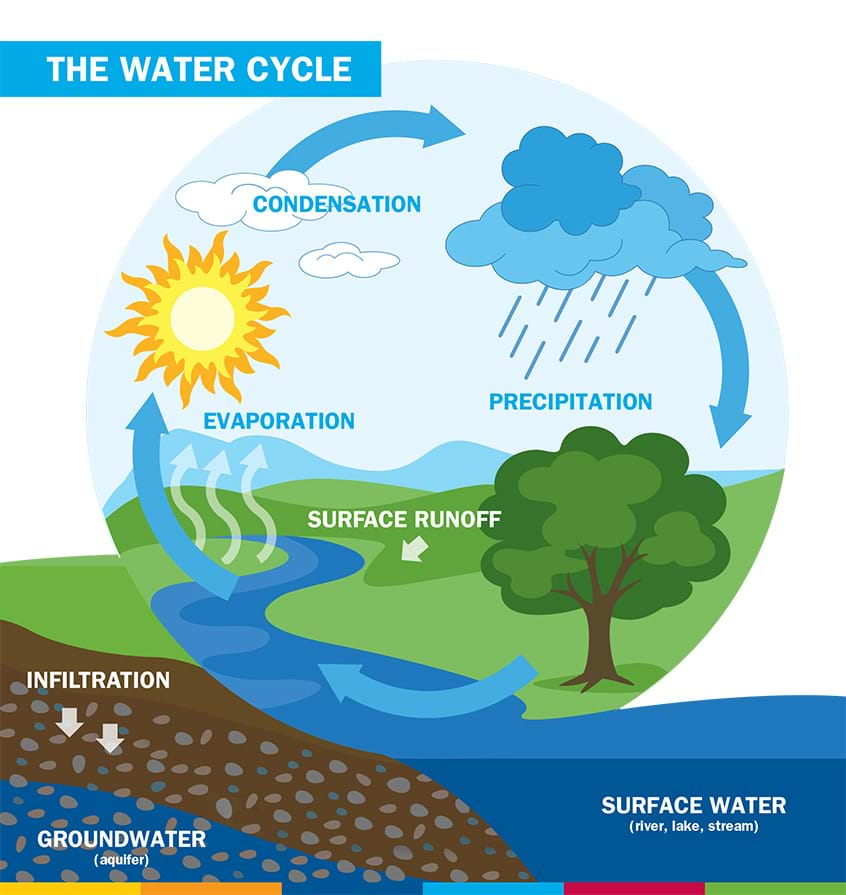 Water Cycle
Elementary School
Unit
Water is essential to life. Understanding how the water cycle works, the importance of water as a natural resource, and how our household water cycle functions is essential knowledge for everyone. Through a range of water-based explorations and the engineering design process, students learn about the water cycle and how engineers manage it.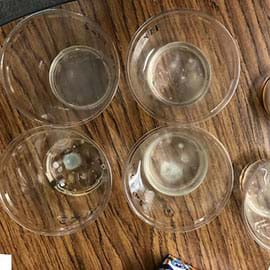 By playing the role of biochemical engineers, students investigate what causes them to become sick during the school year. Students use the engineering design process to test the classroom lab spaces for bacteria. After their tests, they develop ideas to control the spread of germs within the classroom. Finally, students develop a protocol to keep the spread of germs to a minimum for the school year.

Students learn all about muscles, including the three different types of muscles in the human body and the effects of microgravity on muscles. They also learn how astronauts must exercise in order to lessen muscle atrophy in space. Students discover what types of equipment engineers design to help the astronauts exercise while in space.
Students learn about the strength of bones and methods of helping to mend fractured bones. During a class demonstration, a chicken bone is broken by applying a load until it reaches a point of failure (fracture). Then, working as biomedical engineers, students teams design their own splint or cast to help repair a fractured bone, learning about the strength of materials used.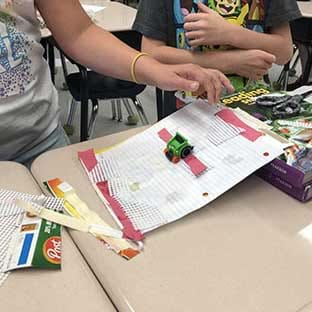 In this maker challenge, students use the engineering design process to design a covering for a portable wheelchair ramp for their school. The design must be easy to use, and allows people to move up the ramp easily and go down slowly. Students have a $20 budget to use for materials. Students conduct research on different materials to use that reduce or increase friction, evaluate proposed solutions that best meets the above requirements, build and test prototypes, revise and improve their designs, and report their findings to the rest of the class.

Student teams investigate the properties of electromagnets. They create their own small electromagnets and experiment with ways to change their strength to pick up more paperclips. Students learn about ways that engineers use electromagnets in everyday applications.

What makes rockets fly straight? What makes rockets fly far? Why use water to make the rocket fly? Students are challenged to design and build rockets from two-liter plastic soda bottles that travel as far and straight as possible or stay aloft as long as possible. Guided by the steps of the engineering design process, students first watch a video that shows rocket launch failures and then participate in three teacher-led mini-activities with demos to explore key rocket design concepts: center of drag, center of mass, and momentum and impulse. Then the class tests four combinations of propellants (air, water) and center of mass (weight added fore or aft) to see how these variables affect rocket distance and hang time. From what they learn, student pairs create their own rockets from plastic bottles with cardboard fins and their choices of propellant and center of mass placement, which they test and refine before a culminating engineering field day competition. Teams design for maximum distance or hang time; adding a parachute is optional. Students learn that engineering failures during design and testing are just steps along the way to success.

Students explore the inhalation/exhalation process that occurs in the lungs during respiration. Using everyday materials, each student team creates a model pair of lungs.

Student groups are given a set of materials: cardboard, insulating materials, aluminum foil and Plexiglas, and challenged to build solar ovens. The ovens must collect and store as much of the sun's energy as possible. Students experiment with heat transfer through conduction by how well the oven is insulated and radiation by how well it absorbs solar radiation. They test the effectiveness of their designs qualitatively by baking some food and quantitatively by taking periodic temperature measurements and plotting temperature vs. time graphs. To conclude, students think like engineers and analyze the solar oven's strengths and weaknesses compared to conventional ovens.

Students are introduced to two real-life problems that can be solved by using the engineering design process. For the first one, they follow along with a slide presentation that describes how a group of students built an organizer to help organize their teacher's desk. The presentation introduces students to the key steps in the engineering design process. Next, in discussion groups, they read through a scenario in which middle school student Marisol struggles to keep their locker organized. They read the case study together, stopping and discussing at key points to share ideas and consider Marisol's progress as they moves through the engineering design cycle to design and implement a solution. As an optional hands-on activity extension, students construct their own locker organizer using scrap materials. This introduction to the engineering design process sets up students to be able to conduct their own real-world design projects. A case study handout, group leader discussion sheet and slide presentation are provided.

Students learn about the definition of heat as a form of energy and how it exists in everyday life. They learn about the three types of heat transfer—conduction, convection and radiation—as well as the connection between heat and insulation. Their learning is aided by teacher-led class demonstrations on thermal energy and conduction. A PowerPoint® presentation and quiz are provided. This prepares students for the associated activity in which they experiment with and measure what they learned in the lesson by designing and testing insulated bottles.

Students are introduced to the multidisciplinary field of material science. Through a class demo and PowerPoint® presentation, they learn the basic classes of materials (metals, ceramics, polymers, composites) and how they differ from one another, considering concepts such as stress, strain, ductile, brittle, deformation and fracture. Practical examples help students understand how the materials are applied, and further information about specific research illustrates how materials and material science are useful in space exploration. A worksheet and quiz are provided.

Trash Talkin'
Elementary School
Activity
Students collect, categorize, weigh, and analyze classroom solid waste. The class collects waste for a week and then student groups spend a day sorting and analyzing the garbage with respect to recyclable and non-recyclable items. They discuss ways that engineers have helped to reduce the accumulation of solid waste.

Students brainstorm and discuss the different types of materials used to build houses in various climates. They build small models of houses and test them in different climates.

Students visualize the magnetic field of a strong permanent magnet using a compass. The lesson begins with an analogy to the effect of the Earth's magnetic field on a compass. Students see the connection that the compass simply responds to the Earth's magnetic field since it is the closest, strongest field, and thus the compass responds to the field of the permanent magnets, allowing them the ability to map the field of that magnet in the activity. This information will be important in designing a solution to the grand challenge in activity 4 of the unit.
Last updated 5 hour(s) ago