Students explore the inhalation/exhalation process that occurs in the lungs during respiration. Using everyday materials, each student team creates a model pair of lungs.

Students are introduced to the distinctive properties of mixtures and solutions. A class demonstration led by the teachers gives students the opportunity to compare and contrast the physical characteristics of a few simple mixtures and solutions. They discuss the separation of mixtures and solutions back into their original components as well as different engineering applications of mixtures and solutions.

With an introduction to the ideas of energy, students discuss specific energy types and practical energy sources. Associated hands-on activities help them identify energy types in their surroundings and enhance their understanding of the concept of energy.

Student teams investigate the properties of electromagnets. They create their own small electromagnets and experiment with ways to change their strength to pick up more paperclips. Students learn about ways that engineers use electromagnets in everyday applications.

Simple machines are devices with few or no moving parts that make work easier. Students are introduced to the six types of simple machines — the wedge, wheel and axle, lever, inclined plane, screw, and pulley — in the context of the construction of a pyramid, gaining high-level insights into tools that have been used since ancient times and are still in use today. In two hands-on activities, students begin their own pyramid design by performing materials calculations, and evaluating and selecting a construction site. The six simple machines are examined in more depth in subsequent lessons in this unit.

Students are introduced to the five fundamental loads: compression, tension, shear, bending and torsion. They learn about the different kinds of stress each force exerts on objects.

Students make sense of the design challenges engineers face that arise from earthquake phenomena. Students work as engineering teams to explore concepts of how engineers design and construct buildings to withstand earthquake damage by applying elements of the engineering design process by building their own model structures using toothpicks and marshmallows. The groups design, build, and test their model buildings and then determine how earthquake-proof their designs are by testing them on an earthquake simulator pan of Jell-O®.
Using spaghetti and marshmallows, students experiment with different structures to determine which ones are able to handle the greatest amount of load. Their experiments help them to further understand the effects that compression and tension forces have with respect to the strength of structures. Spaghetti cannot hold much tension or compression; therefore, it breaks very easily. Marshmallows handle compression well, but do not hold up to tension.

Students are presented with a brief history of bridges as they learn about the three main bridge types: beam, arch and suspension. They are introduced to two natural forces — tension and compression — common to all bridges and structures. Throughout history, and today, bridges are important for connecting people to resources, places and other people. Using the associated activities to prototype their own structures, students become more aware of the variety and value of bridges around us in our everyday lives.

To learn how friction affects motion, students explore how different textures provide varying amounts of friction to objects moving across them. They build a tool to measure the amount of friction between a note card and various surfaces by measuring the distance that a rubber band stretches. They experiment with a range of materials to determine which provides the least/most friction.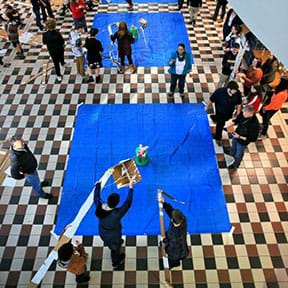 A classic engineering challenge involves designing and building devices that can deliver necessary goods to "Toxic Island," an island that has been quarantined by the World Health Organization due to a nasty outbreak of disease. Working within specific constraints, students design a device that must not touch the water or island, and must deliver supplies accurately and quickly. Students also must design their delivery systems by choosing from a limited number of materials. Students follow the engineering design process as they brainstorm and create designs, as well as test and iterate on their prototypes.

Students test the insulation properties of different materials by timing how long it takes ice cubes to melt in the presence of various insulating materials. Students learn about the role that thermal insulation materials can play in reducing heat transfer by conduction, convection and radiation, as well as the design and implementation of insulating materials in construction and engineering.

Students use DNA profiling to determine who robbed a bank. After they learn how the FBI's Combined DNA Index System (CODIS) is used to match crime scene DNA with tissue sample DNA, students use CODIS principles and sample DNA fragments to determine which of three suspects matches evidence obtain at a crime location. They communicate their results as if they were biomedical engineers reporting to a police crime scene investigation.

Students are introduced to the concept of electricity by identifying it as an unseen, but pervasive and important presence in their lives. They are also introduced to the idea of engineers making, controlling and distributing electricity. The main concepts presented are the science of electricity and the careers that involve an understanding of electricity. Students first review the structure of atoms and then learn that electrons are the particles behind electrical current and the motivation for electron movement. They compare conductors and insulators based on their capabilities for electron flow. Then water and electrical systems are compared as an analogy to electrical current. They learn the differences between static and dynamic forms of electricity. A PowerPoint® presentation is included, with review question/answer slides, as well as assessment handouts to practice using electricity-related terms through storytelling and to research electricity-related and electrical engineering careers.

Students consider how weather forecasting plays an important part in their daily lives. They learn about the history of weather forecasting — from old weather proverbs to modern forecasting equipment — and how improvements in weather technology have saved lives by providing advance warning of natural hazards.
Last updated 12 hour(s) ago