Students test whether the color of a material affects how much heat it absorbs. They leave ice cubes placed in boxes made of colored paper (one box per color; white, yellow, red and black) in the sun, and predict in which colored box ice cubes melt first. They record the order and time required for the ice cubes to melt.

In this lesson, students are introduced to the five types of renewable energy resources by engaging in various activities to help them understand the transformation of energy (solar, water and wind) into electricity. Students explore the different roles engineers who work in renewable energy fields have in creating a sustainable environment – an environment that contributes to greater health, happiness and safety.

Students calculate the viscosity of various household fluids by measuring the amount of time it takes marble or steel balls to fall given distances through the liquids. They experience what viscosity means, and also practice using algebra and unit conversions.

Student groups use kite string and wax paper shaped as leaves to build shelters to protect them from the rain. Then they test the shelters for durability and water resistance.

Students explore the physics exploited by engineers in designing today's roller coasters, including potential and kinetic energy, friction and gravity. First, they learn that all true roller coasters are completely driven by the force of gravity and that the conversion between potential and kinetic energy is essential to all roller coasters. Second, they consider the role of friction in slowing down cars in roller coasters. Finally, they examine the acceleration of roller coaster cars as they travel around the track. During the associated activity, students design, build and analyze model roller coasters they make using foam tubing and marbles (as the cars).

Simple machines are devices with few or no moving parts that make work easier. Students are introduced to the six types of simple machines — the wedge, wheel and axle, lever, inclined plane, screw, and pulley — in the context of the construction of a pyramid, gaining high-level insights into tools that have been used since ancient times and are still in use today. In two hands-on activities, students begin their own pyramid design by performing materials calculations, and evaluating and selecting a construction site. The six simple machines are examined in more depth in subsequent lessons in this unit.

Students explore how pendulums work and why they are useful in everyday applications. In a hands-on activity, they experiment with string length, pendulum weight and angle of release. In an associated literacy activity, students explore the mechanical concept of rhythm, based on the principle of oscillation, in a broader biological and cultural context — in dance and sports, poetry and other literary forms, and communication in general.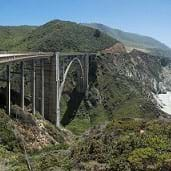 In this lesson, students learn the basics of the analysis of forces engineers perform at the truss joints to calculate the strength of a truss bridge. This method is known as the "method of joints." Finding the tensions and compressions using this method will be necessary to solve systems of linear equations where the size depends on the number of elements and nodes in the truss. The method of joints is the core of a graphic interface created by the author in Google Sheets that students can use to estimate the tensions-compressions on the truss elements under given loads, as well as the maximum load a wood truss structure may hold (depending on the specific wood the truss is made of) and the thickness of its elements.

Students make sense of the design challenges engineers face that arise from earthquake phenomena. Students work as engineering teams to explore concepts of how engineers design and construct buildings to withstand earthquake damage by applying elements of the engineering design process by building their own model structures using toothpicks and marshmallows. The groups design, build, and test their model buildings and then determine how earthquake-proof their designs are by testing them on an earthquake simulator pan of Jell-O®.

In this activity, students are divided into a group of hormones and a group of receptors. The hormones have to find their matching receptors, and the pair, once matched, perform a given action. This activity helps students learn about the specificity of hormone-receptor interactions within the endocrine system.

Students learn how engineers apply their understanding of DNA to manipulate specific genes to produce desired traits, and how engineers have used this practice to address current problems facing humanity. They learn what genetic engineering means and examples of its applications, as well as moral and ethical problems related to its implementation. Students fill out a flow chart to list the methods to modify genes to create GMOs and example applications of bacteria, plant and animal GMOs.

Building upon their understanding of forces and Newton's laws of motion, students learn about the force of friction, specifically with respect to cars. They explore the friction between tires and the road to learn how it affects the movement of cars while driving. In an associated literacy activity, students explore the theme of conflict in literature, and the difference between internal and external conflict, and various types of conflicts. Stories are used to discuss methods of managing and resolving conflict and interpersonal friction.

Students use DNA profiling to determine who robbed a bank. After they learn how the FBI's Combined DNA Index System (CODIS) is used to match crime scene DNA with tissue sample DNA, students use CODIS principles and sample DNA fragments to determine which of three suspects matches evidence obtain at a crime location. They communicate their results as if they were biomedical engineers reporting to a police crime scene investigation.

Students examine the existence of sound by listening to and seeing sound waves while conducting a set of simple activities as a class or in pairs at stations. Students describe sound in terms of its pitch, volume and frequency. They use this knowledge to discuss how engineers study sound waves to help people who cannot hear or talk.

Students learn about the causes, composition and types of volcanoes. They begin with an overview of the Earth's interior and how volcanoes form. Once students know how volcanoes function, they learn how engineers predict eruptions. In a class demonstration, students watch and measure a mock volcanic eruption and observe the eruption phases, seeing how a volcano gets its shape and provides us with clues to predict a blast.
Last updated 21 hour(s) ago