In this hands-on activity, students investigate different methods—aeration and filtering—for removing pollutants from water. Working in teams, they design, build and test their own water filters—essentially conducting their own "dirty water projects." A guiding data collection worksheet is provided.

With an introduction to the ideas of energy, students discuss specific energy types and practical energy sources. Associated hands-on activities help them identify energy types in their surroundings and enhance their understanding of the concept of energy.

Students learn the different airplane parts, including wing, flap, aileron, fuselage, cockpit, propeller, spinner, engine, tail, rudder, elevator. Then they each build one of four different (provided) paper airplane (really, glider) designs with instructions, which they test in three trials, measuring flight distance and time. Then they design and build (fold, cut) a second paper airplane design of their own creation, which they also test for flight distance and time. They graph the collected class data. Analysis of these experiments with "model" airplanes and their results help them see and figure out what makes airplanes fly and what can be changed to influence the flying characteristics and performance of airplanes.

Student teams investigate the properties of electromagnets. They create their own small electromagnets and experiment with ways to change their strength to pick up more paperclips. Students learn about ways that engineers use electromagnets in everyday applications.

In this multi-day activity, students explore environments, ecosystems, energy flow and organism interactions by creating a scale model biodome through applying the engineering design process. The Procedure section provides activity instructions for Biodomes unit, lessons 2-6, as students work through Parts 1-6 to develop their model biodome. Subjects include energy flow and food chains, basic needs of plants and animals, and the importance of decomposers. Students consider why a solid understanding of one's environment and the interdependence of an ecosystem can inform the choices we make and the way we engineer our own communities. This activity can be conducted as either a very structured or open-ended design.
Using spaghetti and marshmallows, students experiment with different structures to determine which ones are able to handle the greatest amount of load. Their experiments help them to further understand the effects that compression and tension forces have with respect to the strength of structures. Spaghetti cannot hold much tension or compression; therefore, it breaks very easily. Marshmallows handle compression well, but do not hold up to tension.

Lights Out!
Elementary School
Lesson
What would your life be like without electricity? In this lesson, students engage in the science and engineering practices of making observations and asking questions to make sense of the phenomenon of electricity. They learn about two main forms of electricity, static and current, and that electrons can move between atoms, leaving atoms in a charged state. Students discover the disciplinary core concepts of electric forces and current while applying the crosscutting concept of energy transfer.

In this two-part activity, students design and build Rube Goldberg machines. This open-ended challenge employs the engineering design process and may have a pre-determined purpose, such as rolling a marble into a cup from a distance, or let students decide the purposes.

Students determine their carbon footprints by answering questions about their everyday lifestyle choices. Then they engineer plans to reduce them. Students learn about their personal impacts on global climate change and how they can help the environment.

Students learn about catapults, including the science and math concepts behind them, as they prepare for the associated activity in which they design, build and test their own catapults. They learn about force, accuracy, precision and angles.

Students use DNA profiling to determine who robbed a bank. After they learn how the FBI's Combined DNA Index System (CODIS) is used to match crime scene DNA with tissue sample DNA, students use CODIS principles and sample DNA fragments to determine which of three suspects matches evidence obtain at a crime location. They communicate their results as if they were biomedical engineers reporting to a police crime scene investigation.

Students build scale models of objects of their choice. In class they measure the original object and pick a scale, deciding either to scale it up or scale it down. Then they create the models at home. Students give two presentations along the way, one after their calculations are done, and another after the models are completed. They learn how engineers use scale models in their designs of structures, products and systems. Two student worksheets as well as rubrics for project and presentation expectations and grading are provided.

Through this hands-on activity, students explore five different forms of erosion: chemical, water, wind, glacier and temperature. They rotate through stations and model each type of erosion on rocks, soils and minerals. They record their observations and discuss the effects of erosion on the Earth's landscape. Students learn about how engineers are involved in the protection of landscapes and structures from erosion. Math problems are included to help students think about the effects of erosion in real-world scenarios.

Students examine various materials to investigate how they interact with light. They use five characteristics—translucency, transparency, opaqueness, reflectivity and refractivity—to describe how light interacts with the objects.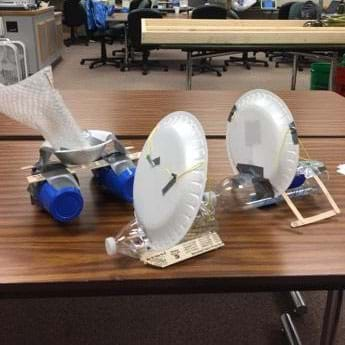 For this challenge, students use a variety of common office and household supplies to design a boat. Their goal: to not only have the fastest boat, but to also take into account how much mass (or "cargo") the boat can carry, the stability of the boat in the water, the total mass of the boat, boat aesthetics, and how much it "costs" to construct. A fan supplies wind and propels each boat down the lane of a small pool. Students work through the engineering design process as they brainstorm ideas with their teams, design and test their boats, redesign, and then retest to make the boats as efficient as possible.
Last updated 21 hour(s) ago