Quick Look
Grade Level: 7 (6-8)
Time Required: 1 hours 30 minutes

(30 minutes demo/initial computer graphing; 30 minutes class period design; 30 minutes class testing and follow-up)
Expendable Cost/Group: US $1.50
Group Size: 1
Activity Dependency: None
Subject Areas: Physical Science, Science and Technology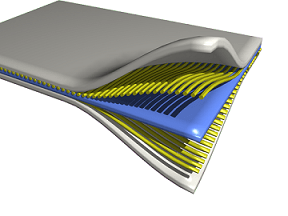 Summary
Students are given the (hypothetical) engineering challenge to design and test a new composite material (one made from two or more materials bonded together) for use as the webbing for lawn chairs. They use thin plastic sheeting, masking tape, string and hot glue, aiming to achieve a design that holds the greatest possible load in tension with the least amount of stretch. Acting as engineers, students design and test strips of plastic chair webbing, learning about composite materials and tension as a force that acts on structural components and experiencing the engineering design/test/redesign process.
This engineering curriculum aligns to Next Generation Science Standards (NGSS).
Engineering Connection
Engineers use their knowledge of material properties, such as the ability to withstand tension and compression, to choose the most suitable materials for their design of all sorts of structures. In addition, engineers create new materials, such as composite materials, which combine the properties of two or more material components. From skyscraper foundations to artificial tissues used to transplant organs, composites are designed to achieve the ideal material properties for specific purposes.
Learning Objectives
Through a hands-on group design problem, students learn about tension as a force and how it acts on structural components.
Students learn about composite materials and how they can withstand higher forces.
Educational Standards

Each TeachEngineering lesson or activity is correlated to one or more K-12 science, technology, engineering or math (STEM) educational standards.

All 100,000+ K-12 STEM standards covered in TeachEngineering are collected, maintained and packaged by the Achievement Standards Network (ASN), a project of D2L (www.achievementstandards.org).

In the ASN, standards are hierarchically structured: first by source; e.g., by state; within source by type; e.g., science or mathematics; within type by subtype, then by grade, etc.
Suggest an alignment not listed above
Materials List
To build one test station:
link chain, at least a 14' section (make sure the links fit around a 3/8" bolt)
8" section of link chain
2 3/8"x6" round head bolts threaded entire length
6 3/8" hex nuts
duct tape
5-gallon bucket with strong handle (such as a school floor wax bucket)
small pea stones (uniform size) or sand, enough to fill the 5-gallon bucket (sand is messier)
ruler
small coffee can, 16-ounce size
scale, to weigh sand or stones
For one sample (each team needs 4 sample sets):
1 strip of plastic sheet, 4mm x 3" x 18" long (1 mil = 1/1000"); purchase a roll of plastic sheeting at a hardware store like Home Depot; do not use trash bags
5' masking tape
5' string
Tools for sample construction:
Worksheets and Attachments
Visit [

www.teachengineering.org/activities/view/stop_the_stretching

] to print or download.
Introduction/Motivation
The Need: Because of the increasing cost of making plastic chair webbing (plastic strips), your company needs to find a new way to make lawn chairs. An idea was introduced to make strips out of plastic sheets and develop a new product line. However the plastic alone is not strong enough in tension and it stretches way too much to be used to make lawn chairs.
The Challenge: Your engineering team has been assigned to design and test a new composite material to use for chair webbing. A composite material is one that is made from two or more materials bonded together. Your goal is to design a 3" wide strip of chair webbing made from thin plastic, masking tape, string, and hot glue. Your chair webbing must be designed to hold the greatest load possible in tension, with the smallest amount of elongation (stretch).
Procedure
Background
Set up only two test stations. This focuses all students' attention on the testing so they learn how to improve their own designs by seeing the results of other teams' tests.
Before teams test their own chair webbing designs, demonstrate to the class the process of running a test. Run the first test on a single 4 mil thick plastic strip (3" x 18") and have a student record the data on the classroom board. Have the entire class graph these results on the grid provided in their packets. Doing the plain plastic test first also serves as a control; later, students are able to see the improved stiffness and strength of their composite material designs.
Teacher Background Notes
Structural elements subjected to tension (pulling forces) stretch and "neck down" before they break. The amount of elongation (stretching) depends on the load and the original material length; the longer the piece of material, the more it stretches when subjected to a given load (so it is important for all students to mark off the 5" initial length). Have students watch for the necking on their plastic samples that are loaded in tension; observe that the middle of the material gets skinnier and thinner. All materials in tension, even steel, stretches and necks down, before failure (break). Wen a high enough load is placed on a structural member in tension, the ultimate tensile strength of the material is exceeded and it fails.
Direct students to find real-life examples of structural elements in tension, such as cables (wire ropes) that secure bridges, antennas and small towers, as well as hoists and cranes; telephone lines strung between poles; wires that suspend or limit the movement of signs, traffic lights and sailboat masts; ropes with pulleys to lift heavy loads (block and tackle) or for rope ladders, playground equipment and boat rigging.
The stiffness of a material is a measure of its rigidity or flexibility; the greater a material's stiffness, the less it deforms (compresses, stretches, bends) when a load is placed on it. In this activity, students' challenge is to develop not only a stronger material, but also one that has a much greater stiffness. Their graphs will tell them if they are successful. The steeper the slope of the linear (straight-line) part of ther graph, the higher the material's stiffness (see Graph 1). A steep slope indicates a very rigid material—the amount of stretch increases slowly as the load increases, which is the goal for designing the chair webbing. Notice that material "A" only stretches 1/4" when loaded to 50 lbs. A curve with a less steep, flatter slope (graph B) indicates a more flexible or stretchy material—the amount of stretch increases quite a lot as the load is applied. Notice that material "B" stretches 1 1/2" with only a 30 lbs. load applied.
Composite materials are quite common today. A composite material is one that is created by bonding two or more materials together to create a material that is stiffer, stronger, lighter or has some other improved property (such as less thermal conductivity, higher electrical resistance, etc.). Composite materials are commonly used for insulation and building materials, sports gear (tennis racquets, snowboards, bicycles, fishing poles, golf clubs, clothing), and spacecraft, airplane and automotive bodies. Some of the many composite materials include glass fiber-reinforced resins (fiberglass), carbon-graphite composites, ceramic composites, plastic laminates and plastic-metal laminates.
Before the Activity
Gather materials and make copies of the Constructing the Tensile Test Stations (instructions on how to construct the tensile test stations, also see Figure 1) and Problem Statement Worksheet (student procedures).
With the Students
Follow the instructions on the Problem Statement Worksheet.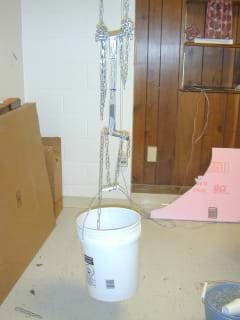 Assessment
Example rubric parameters for grading students' final design solutions:
Maximum load carried
Minimum amount of stretching (elongation)
Minimum amount of material used
Investigating Questions
What is tension?
What effect does tension have on structures and structural elements?
What are some real-life examples of tension? Name some examples of structural elements that are loaded in tension.
What are composite materials and how are they made?
What are some real-life examples of composite materials? What are their special properties?
Activity Extensions
Add a research component to the activity by having students to do Internet searches to find different composite materials and learn how they are made, what they are used for and their improved properties. You might have students do this in advance of their own design work, as a way to generate ideas. Students might investigate the following: reinforced concrete, insulation and other building materials; materials used to make skis, snowboards, racing bicycles, tennis racquets, fishing poles and golf clubs; materials used to make spacecraft, airplane and automotive bodies. Specific materials that they might research include: glass fiber-reinforced resins (fiberglass), carbon-graphite composites, ceramic composites, plastic laminates and plastic-metal laminates, and many others.
Copyright
© 2013 by Regents of the University of Colorado; original © 2005 Worcester Polytechnic Institute
Contributors
Douglas Prime, Tufts University; Lacey Prouty, Tufts University; Brad George, Hale Middle School, Nashoba Regional School District, MA
Supporting Program
Center for Engineering Educational Outreach, Tufts University
Last modified: May 21, 2019